IIn some parts of the world, printed wayfinding or traffic signs no longer exist. Ambling through a city center you will pass kiosks with real time information on activities, construction and more. Dynamic parking signs replaced paper updates. Even the humble meeting room door sign has been updated with not only the name of the room, but who has booked the room and when the room is free. What's even more amazing – the room can be booked through the interactive door sign – a virtual meeting assistant. Her name is Joan and she is always available to help.
What have we learned in the last decade? Terms like game changer and disruptive tech apply to more than smartphones and apps. An organization in Slovenia has turned signage completely around and created the broadest complement of indoor and outdoor signage in the world. You could say, it's a 'better new normal.'
.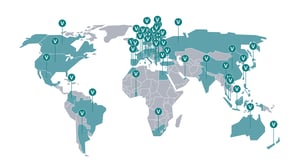 Visionect Around the World. Credit: Visionect
We love our GPS apps - Google Maps and Waze helped somewhat. They can usually spot traffic, detours and accidents. Have you lost signal in a major urban center? Once you enter a building – you are on your own.
Wayfinding isn't limited to vehicles. Sometimes we are the vehicle. Hiking, biking, skiing – a few outdoor activities where it's important to know where we are – and where we're going. Many trails have printed plaques to give direction. What if a trail is closed? Waiting for a sign to be created to announce dangerous terrain can lead to tragedy.
Tourismus Oberstdorf found the perfect year round solution with Visionect & Mercury Systems' Besucherleitsystem – the Visitor Guidance System. Heat of summer or freezing winter temperatures don't slow down visitors.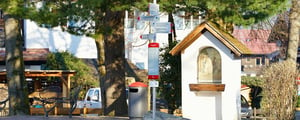 Summer in Oberstdorf. Credit: Visionect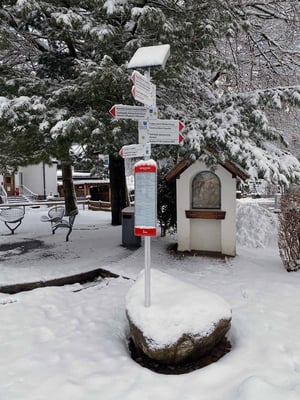 Winter in Oberstdorf. Credit: Visionect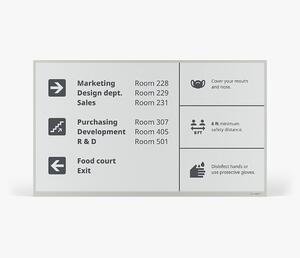 Plug and Play. Credit: Visionect
For the habitually confused driver or pedestrian – the perfect choice is prominent public digital signage updated in real time.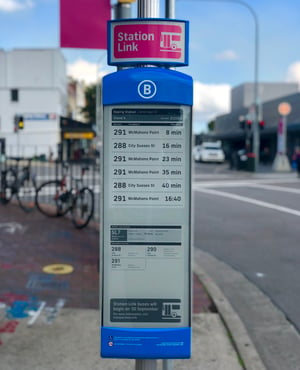 Real time bus schedules. Credit: Visionect
Long-time E Ink partner Visionect has championed wayfinding both on the street and inside structures. Check the latest blog from Visionect on digital signage use cases around the globe.
Our Visionect real time experience started with Joan, Meeting Room Assistant. We have one at E Ink for every conference room.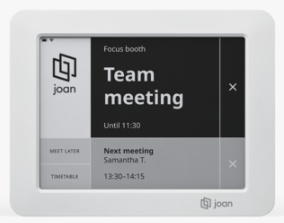 Latest Joan 6. Credit: Visionect
Also, check out these other posts about Visionect and E Ink Digital paper projects:
From Black and White Particles to Smart Surfaces
E Ink's Partner, Visionect, Provides Display for "The Blank Slate Monument"
How can real-time digital signage from Visionect improve your life? We've only begun to experience the better 'new normal!'