A Smartwatch is a Smartwatch, right? All the same – same notifications, same apps. Nothing new to see here.
You would be wrong! Smartwatches have come a long way, baby. The newest designs incorporate E Ink Digital Paper to lengthen the time battery life between charges and make the Smartwatch personalized to your demands. The list of functions gets longer with every release.
I reviewed my Fossil Hybrid HR Smartwatch a while ago – you can read the post published in 2020. I was blown away by the features and the app. Fast forward 18 months, and I can't believe what's available.
Smartwatches offer a baseline of functions – time, notifications (calendar, texts, phone calls, weather), activity tracking & heart rate, and other nice to have options – music control, GPS, Bluetooth, Find Your Phone, and more. The apps provide flexibility in customization, allow quick updates to settings and provide more information on the Smartwatch functions.
What's new in Smartwatches is the focus on health and fun. Odd combination, right? It's a new frontier for Smartwatches – and manufacturers are giving customers what they want – and some features we didn't know we wanted.
Following is a shortlist of Smartwatches with E Ink Digital Paper. All retail under $300 USD. Links are provided for quick access – of course!
Fossil Hybrid Smartwatch - Hybrid: Shop Hybrid Smartwatches - Fossil
To begin where I left off – the Fossil Hybrid Smartwatch is still a contender in the Hybrid Smartwatch arena. Hybrid – includes E Ink Digital Paper. As we know, Digital Paper from E Ink improves readability and lets the battery sip power – and that allows longer wear time between recharging. Digital Paper from E Ink also allows the range of customization on the watch face. The app has been updated to include: inviting friends to challenges and assigning functions to the buttons of the watch.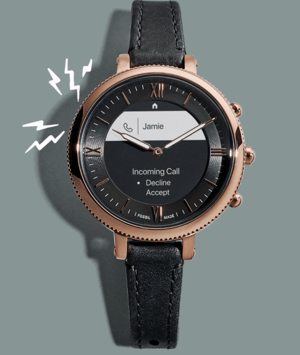 Image credit: Fossil
On top of the standard functions and features, the Fossil Hybrid HR includes: music control, Do Not Disturb mode, Find Your Phone, weather notification, sleep stats and easily interchangeable bands. The Hybrid HR is available in 38 and 42mm watch face widths.
Skagen – Jorn Hybrid HR - Learn More About Hybrid HR Smartwatches - Skagen
Similar to the Fossil Hybrid HR, the Skagen Jorn includes the fundamental features. Notifications and features that sets the Jorn apart: GPS, and reading social media posts and texts.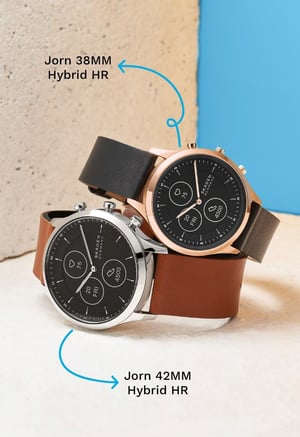 Image credit: Skagen
If you think the Jorn is eerily similar to the Fossil Hybrid HR, you are correct! The Fossil Gen 5 models are the guts of several brands – including Skagen. Skagen Denmark is a brand under Skagen Designs Ltd – which is a subsidiary of Fossil.
Citizen CZ Smart Hybrid Smartwatch - CZ Smart - Hybrid Smartwatch | CITIZEN (citizenwatch.com)
The CZ Smart Hybrid has a sporty and rugged look and feel. The app is similar to the Fossil app. Great choice for the sports enthusiast or those who want you to think they are sports enthusiasts.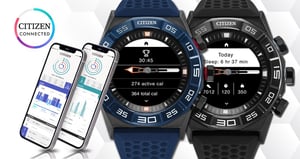 Image credit: Citizen
The Citizen CZ is also Bluetooth enabled and has a robust app – Citizen Connected.
Epson Smart Canvas – Smart Canvas Feel Travel Healing every moment (epson.com.tw)
Epson Smart Canvas brings the fun and the funk! This watch is functional and fashionable – and downright adorable. Popular band patterns include solids and flowers, but also include Peanuts™ and Snoopy, Mickey (as in THE MOUSE), Pooh (Winnie The Pooh, if you're formal) and some characters I've never seen – not that it matters – Purr Rice, Lara Bear and Little White Bear.
This watch is a little pricier than the other hybrids – about $350 through Epson and GoodeReader. If fashion is your passion, then the price uplift is worth it. Smart Canvas is the most fun you can have while striking a pose. By many accounts, functionality is limited to cute bands and time keeping. No activity tracker, GPS, Bluetooth, notifications – nothing but the time. And lots of style.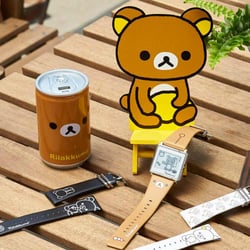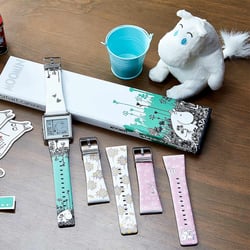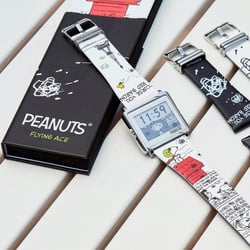 Lara Bear Purr Rice Peanuts
Image credit: Epson
Smartwatches have come a long way – and have gotten smarter! Adding E Ink Digital Paper enhances the devices' functionality and adds to user satisfaction – easy to read, low power consumption and long battery life are just the beginning. What do you think we'll see in the next 18 months?