I will preface this review with some facts: I am not an engineer nor an athlete. I'm a regular person who struggles with weight and fitness. I've tried all sorts of programs – weight training, aerobic/cardio routines, barre, yoga, Pilates, TRX (that was SO tough!!) and combinations of all of them.
As far as activity trackers, I've had several FitBits – the small clip on and then the wristband style. I had a Microsoft tracker which was my first experience with notifications – a blessing and a curse. I was wearing a FitBit Inspire HR for a year before I discovered the Fossil Hybrid HR. I liked the Inspire's style and the FitBit app.In the time I've been at E Ink, I've seen a number of gadgets incorporating Digital Paper. Epson, Sony FES – functional or fashionable, eReaders, eNotes and more. I hadn't thought much about how a tracker would benefit me. I was happy with the series of FitBits I've had over the years. Then Fossil introduced the Smartwatch Hybrid HR.
The Smartwatch Hybrid HR was introduced late in 2019. Some of my colleagues were early adopters. I wasn't that motivated. I saw more and more of the Hybrids and started to pay attention. I took the plunge in December, 2019. This is a slick unit!In addition to activity tracking and time/date – there is a lot of other information tracked – steps/miles, active minutes, heart rate, outside temperature, precipitation, sleep, calories burned (based on activity & basic living). Add on notifications for email, texts, calendar items, calls (create a favorites list for specific notifications), apps of your choosing, and of course – reminders to move! All of these items are customizable and can be selected (maximum of four) for display on the tracker face. I can control music apps on my phone and reply to texts with some preloaded replies.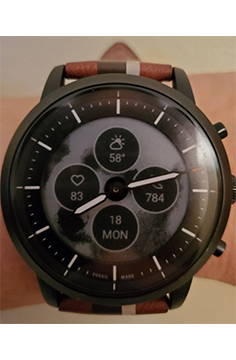 This attribute really sealed the deal – customizable faces. There are preloaded images to select, or you can upload your own photo. Currently my Standard Poodle's face graces my tracker. He's white, which is good, as the face supports black & white images.
The Fossil app is easy to navigate and customize. You create a profile with your height, weight, age and goals. The step tracker is as accurate as FitBit or other phone apps I've used. My current configuration includes the date, outside temperature, heart rate and steps. And Chester's mug, of course.
One last plug – it's super easy to change the watch bands. There's a slide on each end – no tools required. My Hybrid Collider came with a brown band. I bought a striped band to be fancy. This extends the opportunity to wear the Fossil Hybrid – I can dress it up or down.
I daresay this might be my last tracker. I have worn it daily (and overnight – love tracking my sleep) for nearly six months. I really love this tracker! Take a look at the Fossil Smartwatch Hybrid HR– it's a game changer.