Just a few days until Labor Day – where did the summer go? Shifting our focus to back to school: school supplies, new clothes, new tech, eye health!
Eye health? We've discussed earlier this year the study E Ink sponsored with Harvard School of Public Health demonstrating the danger of damage to vision by blue light emitted by LCD screens.
In July, we posted the study and the supporting evidence to the toll of the emissive screen time from phones, laptops, tablets, TVs and various LCD displays which fill our landscape – indoor and out. Now the kiddos will have required screen time – many school districts issue laptops and tablets to their students. Not to mention all the screens at home. That's a lot of blue light.
The World Health Organization (WHO) predicts that by 2050 over half the world's population will be nearsighted. I'm nearsighted – so annoying!
Why? To start, more time indoors and a boost in 'near work' activity. That means recreational screen time. We hold our devices close to our faces. And closer to our eyes. It's not just eyesight that can be impacted but can lead to a physical condition – MGD (Meibomian Gland Dysfunction) – which can cause dry eye. You can read about it – I don't want to read it again!
In addition to dry eye, blurry vision and headaches are symptoms. The advice is to reduce screen time and get the kids outside.
Of course, switching to ePaper displays whenever possible is also a great preventative. So many eBooks available – and with color! This is a great time to investigate a new eReader or eNote – or maybe something that does both – like the Kindle Scribe?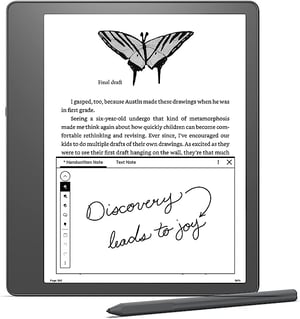 Kindle Scribe. Credit: Amazon
The reMarkable functions as an eNote and an eReader.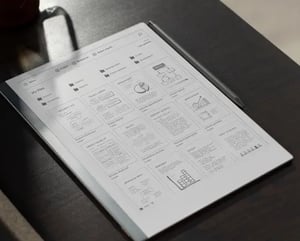 reMarkable 2. Credit: reMarkable
For color, look to Onyx Boox Tab Ultra C with Kaleido 3 E Ink ePaper, for example, or the Note Air2/Air2Plus.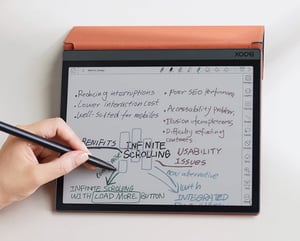 Onyx Boox Tab Ultra C. Credit: Boox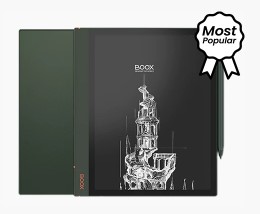 Onyx Boox Note Air 2 Plus. Credit: Booz
A search for color eReader or eNote will bring up more options. Add a new eReader or eNote to the shopping list – we rely on our peepers!
Let me know what you decided to buy at blog@eink.com.