Mixing the past and present
How to best showcase over 2.9 million bound volumes, 4,400 manuscripts and more while keeping the charm of a library built in the 20th century filled with material from the 18th century? With Visionect displays with E Ink Digital Paper, of course.
The Slovenian National University and Library (NUK) created their wish list for the communications system, they focused on mirroring the environment of the library – timeless, unobtrusive and flexible.
Visionect created a solution for NUK which hit all the key points – read more here.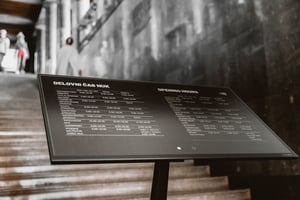 Image: Visionect
Pivot now to a very different location – a luxury resort called Familux Resorts. Familux assets include resorts, chalets and yachts. This resort features five star services and amenities. Like a cruise ship, the hotels run activities for guests of all ages. While a cruise ship prints a newsletter every night for the next day's schedule, Familux has stepped with signage from Visionect with E Ink Digital Paper.
Visionect was able to take the priorities from Familux - easy to install, easy to update, couldn't be accidentally changed, display static information and maintains the luxurious and stylish appearance to match the environment.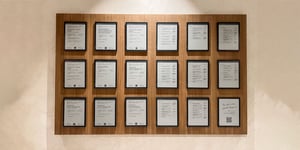 Image: Visionect
While these installations are very different, the common factor is the E Ink Digital Paper. Lightweight, bistable (maintains the image when power is absent), requires low power to update images, can be powered by solar, easy to update – everything that Familux wanted was built into the Visionect Place & Play.
To reinforce this partnership of ease of use and powerful capabilities, Joan 6 was awarded the Red Dot Award for Product Design in 2022. The Red Dot Award is the benchmark of excellent design and innovation. The 2022 field was about 20,000 submissions. A panel of 48 international members choose Joan 6 based on the fundamental principles of sustainability, simplicity, and outstanding design.
This is the third time Joan has been honored – previous awards were given in 2018 and 2016. E Ink has Joan units at every conference room door. The long life of the battery and the ability to book a meeting at the doorway has been a huge bonus for us.
How do you manage your meeting spaces and shared assets? Have you evaluated the Joan system? Take a look today!