Tokyu Bus of Tokyo, Japan, has deployed Smart Transportation displays designed by GDS with E Ink Digital Paper along several bus routes in Tokyo. The displays will be tested from March to May, 2021.
e-Tela Smart Transportation Displays from GDS with E Ink Digital Paper.
Image courtesy of GDS
The goal of the test is to measure congestion on buses within the route and report that information, in real time, to waiting passengers by way of the e-Tela display installed at the bus stop. An infared fixture counts the passengers as they enter and exit the bus. This information is reported to the appropriate kisosk or display along the route.
Let's look at that again – the bus will count the passengers and beam the information to the waiting commuters at the bus stop. The commuters are informed, in real time, of the crowding within the bus. That gives them a pretty good idea as to whether they will be able to board the approaching bus or wait for the next one.
Since the information is sent wirelessly to the display, it can also be viewed with a smartphone app. It's possible to gauge how likely you are to ride a particular bus on a specific route – while you're ordering coffee and a donut. Have you ever skipped the coffee and donut and then had to wait for multiple packed buses – and thought, 'I could have had a coffee and donut?'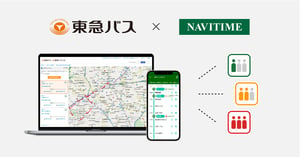 Image courtesy of Navitime
This all pretty cool, but why is this important?
Those who rely on public transportation know that certain routes at certain times of the day are very popular – read that as jam packed. The bus has a finite capacity – which is usually more than the rated capacity, if we're honest. When that maximum human density is reached, whoever is still at the bus stop has no choice but to wait. If a rider knows in advance that a bus is approaching at maximum capacity, the rider can weigh options which include waiting for the next bus or seeking an alternative mode of transportation. If it's possible to catch a bus with empty seats on another line a block or so away, l'd give it a try.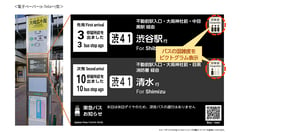 Image courtesy of Tokyu Bus Company
So why is the E Ink Digital Paper important? Think about the characteristics of E Ink Digital Paper:
- Low power – use the sun to charge a battery to run the display day and night. Solar power makes it really easy to put a display exactly where you want it – without running electrical lines, digging up sidewalks. Oh, and the wireless updating – can't forget that. Again, put that display anywhere you want without cabling or manual updating.
- Reflective displays make the screen readable in bright sunlight. Adding a front light enables the screen to be clearly visible at night.
- Bistable functionality – if power is interrupted (maybe a damaged battery or solar cell) or the information is not updated due to a break in the system, the last image remains on the screen. That image may include emergency information and wayfinding instructions.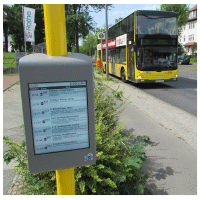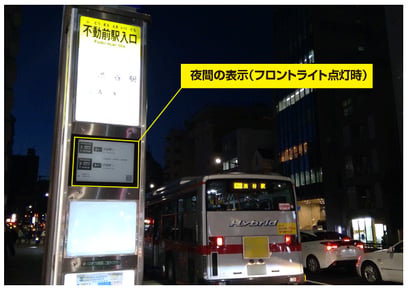 Images courtesy of Marubun Company
Of all the functions of Smart Transportation – this marriage of ePaper signage and a smartphone app is the best innovation since the digital bus pass. I will see you at the donut shop – and I'm buying!
Sources:
GDS Electronic Paper Terminal e-Tela Case Study – Bus Stop Digital Signage
With Corona's new lifestyle "One empty bus!" From March 3rd, we will provide real-time information on congestion inside the train on all Tokyu Bus lines. Tokyu Bus Corporation / Navitime Japan Co., Ltd.
Navitime, Here Map, and Spot Congestion Information Functions are Now Available