Greenhouse gases contribute to the warming of the planet – the main driver of climate change. According to a recent report on world energy, in 2021, Greenhouse Gas (GHG) emissions increased 4.8% compared to 2020. Actual numbers are posted in the press release here.
To slow down the pace of global warming, the Intergovernmental Panel on Climate Change (IPCC) has estimated that global GHG emissions must be cut by 45% by 2030 and reach net zero by 2050.
The urgency to combat climate change has never been clearer.
What Can Help Us Get to Net Zero?
Climate action is a joint effort and it requires collaboration between governments, industries, businesses and individuals.
Now more than ever, companies realize that the threats brought on by climate change are affecting their customers – and without coming together to put effective solutions in place, the Earth will not be able to sustain the needs of our future generations.
With climate action initiatives and such as the Climate Pledge and the Science Based Targets Initiative (SBTi), as well as partnerships with organizations such as the International Dark Sky Association (IDA) and the United Nations Global Compact, the global community is coming together to redesign their roads, buildings, airports, and railroads to make them greener and more sustainable.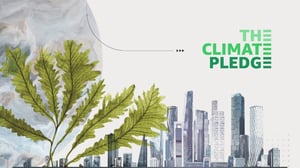 Credit: The Climate Pledge
E Ink's Commitment to Sustainability
At E Ink, sustainability is at the forefront of everything we do – it powers the core technology that we leverage to make cities smarter, transportation more connected, and communications more in real-time.
And because of this commitment and a sense of responsibility to our customers and the global community, we'll continue to invest in making display technology more sustainable to build greener ecosystems across industries such as retail, transportation and healthcare.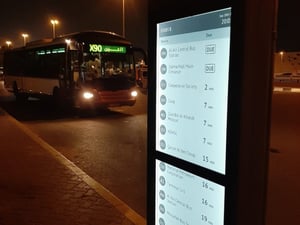 Credit: Papercast
In addition to our goals to use 100% renewable energy by 2030, and achieve net zero carbon emissions by 2040, this past week, we were awarded the world's first ePaper module carbon footprint verification by the British Standards Institution (BSI).
Our 6.8 inch (used for eReaders) and 2.9 inch (used for electronic shelf labels) ePaper modules have been verified as being in compliance with the ISO 14067:2018 standard.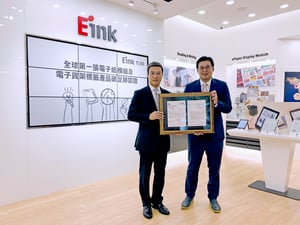 Credit: E Ink
The ISO standard provides GHG emission guidelines to inform the design and manufacturing process of our products. The announcement further highlights our commitment to sustainability. It also provides us a framework to develop a carbon emission reduction plan for ePaper displays.
Looking Ahead
There is no more urgent challenge now than moving toward a sustainable world. We have a role to play in building that future and we look forward to sharing our continued progress in the years to come.