In the past Ask an Inker blog series, we've spoken to E Ink engineers, a business strategy executive, and a HR executive. This week, we welcome a new kind of guest – Ben Paletsky, holding the title of Senior Market Analyst at E Ink.
What does Ben's role entail and what does his day-to-day look like?
Welcome, Ben! Tell us about how you landed at E Ink.
I first became familiar with E Ink in 1999. I remember looking at an article from MIT Technology Review about E Ink – about the concept of these microcapsule snow globes with particles and how the company was trying to create electronic paper. I remember telling my family and friends at the Thanksgiving table: this is going to be a game-changing technology! To me, the company had a lot of potential and I wanted to be a part of that innovation.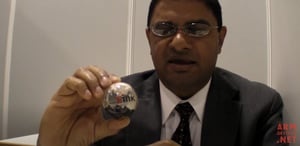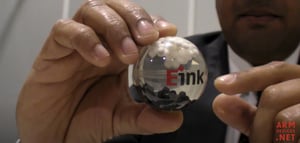 At IFA 2011, Sri Peruvemba at E Ink explains how electrophoretic ink works.
Credit: ARMdevices.net
In 2006, I was hired as an application engineer at E Ink. We were in early development conversations with Amazon, and I got thrown into the deep end right away. It was exciting to see the progress: from an idea to execution to bringing a revolutionary device to market (a market that didn't even exist at the time). That was a once in a lifetime opportunity.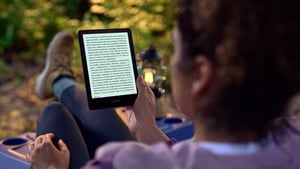 Credit: Amazon
Now as a Senior Market Analyst at E Ink, how has your role or focus changed compared to an application engineer?
In simple words, it's about the human impact and opportunity side of the business. If I were to be more specific, I would say my role focuses on the human interface: how people perceive technology, what the value to them is, and more importantly, how do we bridge the knowledge gap of having people understand how this technology can change their lives for the better.
I spend a lot of time watching people interact with our products and displays, conducting focus group research to get a better feel of consumers' preferences in different markets and geographies and how technology makes them feel (emotional response). This helps us understand the barrier to adoption – making technology as convenient and accessible to people as it possibly can to enhance their experiences.
What skills are crucial for a Senior Market Analyst?
Having a technology vision that looks beyond the current market and trends is important. For example, back in 2007, E Ink was pretty focused on understanding the value of electronic shelf labels – that market didn't even materialize until ten years later.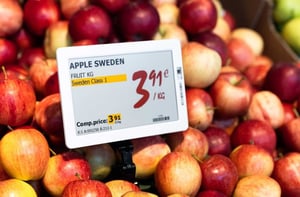 Credit: Pricer
What happens as a marketer exploring new opportunities with emerging technologies is, essentially, you're the crazy person. You're looking at potential markets that a business can impact. If you find the market timing is today, you're probably way too late. You have to be looking for things that are five years, or even ten years out – and that's my focus right now, looking at new markets and applications that may be practical today, but could also add tremendous value to our needs in the future.
So, in the case of E Ink, I'm currently looking at two areas: one is areas where displays do not exist, because no conventional display technology can enable it; and the other area is where a poorly suited display technology is being implemented. By "poorly suited," I mean technology that partially addresses a problem, but where E Ink can take it to the next level.
What innovative E Ink applications are you paying close attention to these days?
I am interested in displays that complement and augment the human experience. For example, using displays to create natural and comfortable environments for passengers at airports and airport terminals. Displays that are clear, with no solar glare, and with no disruptions to the current environment and ambiance – improving a positive passenger airport experience not only is pleasing to the travele, but has also been shown to increase non-aeronautical revenue in the terminal.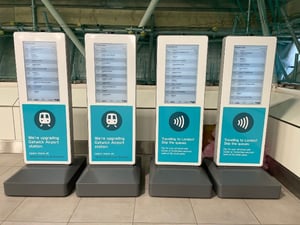 E Ink displays at Gatwick Airport.
Credit: Melford Technologies Ltd
Another example is in the hospitality industry. If you're in the lobby of a wonderful hotel and there's a glowing display, that kills the whole ambiance that hotel is trying to design. So, creating complementary experiences to the environment and aesthetics is a great use case of E Ink's technology.
E Ink has grown tremendously over the past years as a company, and color is definitely a huge focus and a creative journey for both E Ink as a company and the customers that implement this new breakthrough in their applications. While all of that is exciting to see, I think there is also unique value to E Ink's black and white products. There's something magical about black and white because it continues to add value to markets – it's applicable across so many different industries and application.
What advice would you give to our readers as it's getting increasingly difficult to unplug and disconnect in this digital world?
The creativity of play and tangible things we experience as humans should not be overlooked. Going outside in nature, breathing fresh air, relaxing, writing, drawing, creating, or fixing something mechanical – there are so many ways to unplug and be present.
For example, if I'm writing on a notepad, I'm fully engaged. I don't need to spend time caring about the color setting of my stylus, or how much battery is remaining. I'm in the moment, focused and not distracted by a glowing display. It's not beneficial when something as simple as taking notes or sketching, gets bogged down by complex keystrokes, popup windows, or worrying where's the nearest outlet to charge your device – your experience has been taken away from you.
This is an area where E Ink excels, creating that disruption-free environment so your experience is both functional and natural. With all the advances of technology, we don't have to lose sight of what makes us human.