From the "Great Resignation" to the "Great Reshuffling" to the "Big Stay," employees' expectations have changed drastically in the past few years. Companies that can look intrinsically and build a culture that's driven by continuous learning, innovation, and inclusive participation of employees will see like-minded talent look their way.
Having been in the HR space for almost 15 years, Beth Cox, Human Resources Manager at E Ink, shares the changes she's seen in the workforce and advice for companies to maximize collaboration, communication, and engagement among employees.
Tell us about your experience. How did you land at E Ink?
My background was on the employee benefits side. That was my niche into the HR field. When I started at E Ink, I was a benefits administrator. Over the years, I slowly expanded my role and responsibilities. Last month, I celebrated my 12-year work anniversary at E Ink.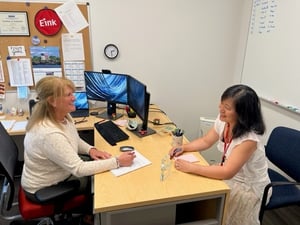 Beth Cox (right) with an Inker.
Credit: E Ink
Use three words to describe the culture at E Ink. Why did you pick these words?
Innovative, collaborative, and welcoming.
E Ink is a core technology component enabling companies to transform their industries – from transportation to retail to healthcare, and our Inkers are driven and committed to solving customer pain points. This requires them to think outside the box and approach challenges with a creative mindset.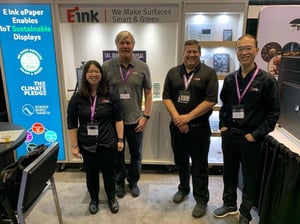 Inkers at the IoT Tech Expo in Santa Clara.
Credit: E Ink


With hybrid work settings, it's increasingly important for employees to feel together and connected. Some of our employees – like the engineering team – have to be physically in the office to test out the films, while others have more flexibility working from home. Regardless of where they are, Inkers collaborate across different departments to achieve shared goals.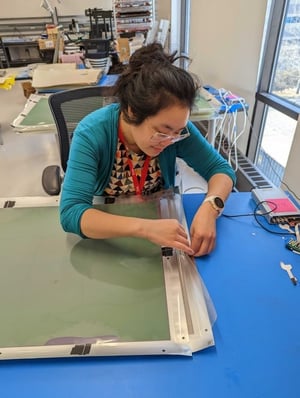 Research engineer Crystal Nguyen is working on color applications in the E Ink laboratory.
Credit: E Ink
E Ink also has a very welcoming environment that's built on trust, collaboration, transparency, and respect. We host an employee town hall every quarter, keeping employees updated on company projects while building ally-ship to make sure employees' voices are heard.
Why is a diverse and inclusive work environment important, and what steps can companies take to build one?
We talked about the power of collaboration and innovation – integrating diverse perspectives is crucial to driving creativity and innovation where different voices and backgrounds are brought together. It can also bring diverse skillsets that benefit the company in the long run.
As a multinational company with headquarters in Taiwan, our employees are located around the world. We must make sure different cultures mesh together in a way that promotes engagement and belonging. Understanding diverse cultures is imperative for building global teams.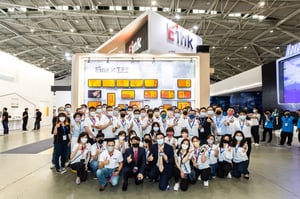 Inkers across the globe gathered at Touch Taiwan 2022.
Credit: E Ink
What are your predictions for the future of work? What can we expect to see in the near term?
The pandemic reshaped the world of work, and it was a wake-up call for many companies. They recognized that employees are their most valuable asset. We'll continue to see employees' changing priorities challenge companies to rethink ways to boost workforce productivity and engagement.
I'm also keeping an eye out for the role of technology in the HR space – for example, how will AI be used in HR, and what are the potential risks HR practitioners should watch out for? I'm excited to see where this technology will take us.