Sustainability is a hot topic around the world. Whatever your views on climate change, it's tough to argue against the benefits trees bring to the planet. Admittedly, I don't enjoy yardwork – but I do support trees to keep our planet – and us – alive.
Here's a short list from ourgoodbrands.com – a self-described 'impact marketing agency that walks the talk.'
Increase oxygen – only a few sources of oxygen on the planet – trees are one. Not only do trees produce oxygen, they pull carbon dioxide from the air. Win/win!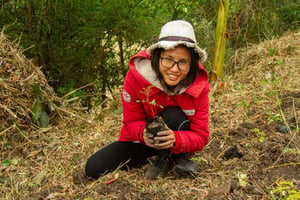 Image: Click A Tree
On the topic of carbon dioxide – trees consume CO2 and reduce greenhouse gases.
Provide natural habitats for endangered animal species – World Wildlife Fund cites tree clearing as a devastating factor in habitat loss for many Asian animals (namely tigers, orangutans, rhinos and elephants.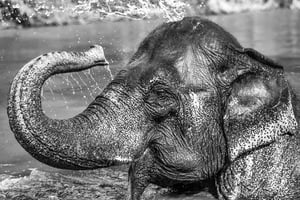 Image: Click A Tree
Planting trees creates dependable salaries and careers – Click A Tree plants trees in developing nations where stable careers and reliable salaries are not usual. Planting trees allows workers to put food on the table and keep a roof over the family's heads. See their mission statement here.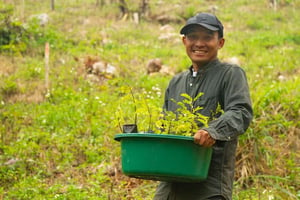 Image: Click A Tree
Trees improve soil and control humidity naturally – trees are a natural way to neutralize toxic substances from soil, decomposing foliage adds nutrients to the soil, and trees act as a natural barrier to winds and floods which protect soil in fields from turning to desert.
Compounding the benefits of increasing carbon capture, soil enrichment, and animal habitat – there is a monetary incentive as well. Litigation is increasing to combat misleading claims of carbon offset schemes. Specifically, Danone North America was singled out for a proposed class action lawsuit over claims that their product, Evian bottled water, is carbon neutral.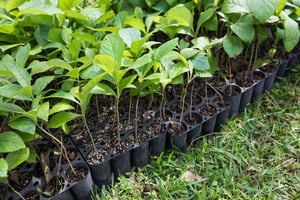 Image: Click A Tree
E Ink corporate partner Visionect has created a way to increase trees as well. Visionect has several programs which offer planting trees for units purchased or utilizing the Joan Asset Reservation System to trigger 10 trees planted for every asset reserved This year, Visionect championed the International Day of Forests by planting 10 trees for every device sold from March 14 to March 21.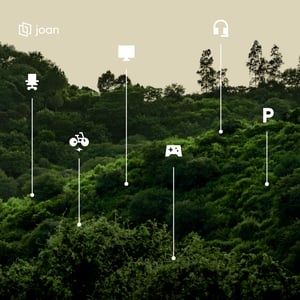 Image: Visionect
Additionally, Visionect engaged their social community to encourage more tree planting – a 'like' planted 1 tree, a 'comment' or sharing posts planted 10 trees. The community stepped up – 7,000 trees were planted in response to the program by Treecelet.
Visionect is a company that doesn't mind getting dirty either! Just this month, employees planted trees themselves to held repopulate an area that had been seriously impacted by fire this past summer. Ana Krizmancic is pictured below with a 'baby tree' she planted, among many others. Shout out to Ana and her colleagues for the hard work! How better to continue the sustainability pledge of low energy consumption and recyclable materials already championed by Visionect?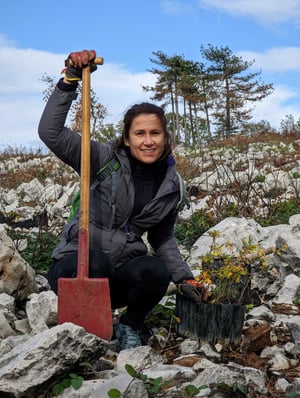 Image: Visionect
These are a few ways to give back to our planet and ensure we have breathable air! It's non-negotiable, actually.
How are you helping the planet renew and regenerate? Let us know – we're always looking for good ideas.