5G. Electric vehicles. Delivery robots. Drones.
We've seen these futuristic elements in science fiction movies, but now they are woven into our daily lives. The speed at which digital transformation is changing our society has drastically increased, and it's reshaping how we interact with each other and engage with our surroundings.
According to the United States Census Bureau, 71.2% of the U.S. population lives within urbanized areas. As cities continue to become smarter, city and government officials must find a balance between keeping citizens safe and informed, while also reducing cities' carbon footprint to protect the planet.
ePaper technology helps address this challenge and allows cities to be more efficient and environmentally friendly.
ePaper Technology Drives Efficient Disaster Response
Natural disasters are increasing in frequency and severity due to climate change: wildfire season is longer and more severe, and hurricanes are generating more destructive power. In these critical situations, it's more important than ever to keep citizens informed and connected.
With its rugged features and ability to display information without power, signage powered by ePaper technology remains functional and effective even in extreme weather while showing public messages and evacuation routes in real time.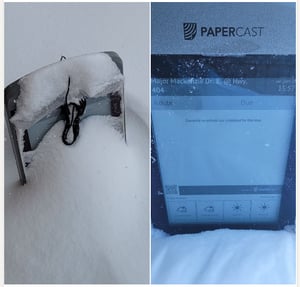 Papercast has conducted extensive testing to validate low temperature operation and device durability for deployments in temperatures as low as -28°C / -18°F.
Credit: Papercast
ePaper technology is critically important to power disaster communications in countries like Japan. Japan is prone to earthquakes because it is located along the Pacific Ring of Fire, which is the most active earthquake belt in the world.
In addition to disaster preparedness, ePaper technology can also assist with emergency response. Imagine a situation where the power is out due to utility grid overload, ePaper signage remains always-on and is a reliable source of information for field crews and technicians.
Sustainability Is Not a Trend, It's a Must!
Light pollution. Excessive energy usage. These ongoing challenges keep city officials up at night.
One hundred years ago, you could walk outside your door and have a clear view of the starry sky above you. Today, artificial light – from streetlights to house lighting to city signage and advertising – has hidden our view of the sky. Light pollution not only affects our view, but it has environmental concerns for wildlife and the climate.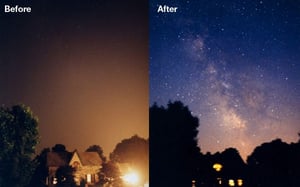 Before and during the 2003 Northeast blackout, a massive power outage affecting 55 million people. Credit: International Dark-Sky Association
As a reflective technology, E Ink's displays do not emit any light, instead using ambient lighting around them to be viewed. When incorporated into smart city signage or outdoor displays, ePaper offers an organic viewing experience without introducing bright light that disrupts the neighborhood or the environment.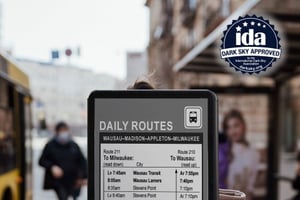 E Ink is the first display technology to receive the Dark Sky Certification from the International Dark-Sky Association (IDA).
Credit: E Ink
Cities account for two-thirds of global energy consumption and more than 70% of annual global carbon emissions – and the demand for urban energy infrastructure is continuing to grow. With the trend of energy usage, sustainable technology like ePaper solutions will be key in transforming the energy landscape by improving energy efficiency.
Due to the unique attributes of the electronic ink, power is only required to switch images, not to continually display it. This means displays can be run using solar power, alleviating the need to be connected to the power grid. E Ink ePaper technology helps smart cities achieve net-zero emission goals while continuing to push forward digital transformation to better serve their citizens.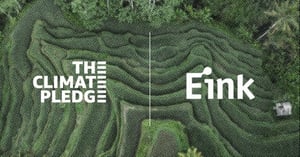 E Ink joined The Climate Pledge, showcasing the company's commitment to protecting the environment and global economy from the risks brought on by climate change.
Credit: E Ink
Leveraging ePaper technology, our customers in the transportation and smart cities industry reported 200,000 less tons of CO2 used compared to LCD displays, and an estimate of two million USD Dollars in Carbon Credit Value achieved based on USD10/ton CO2e, most discussed carbon pricing in Taiwan.
Resilient, connected, and sustainable – the future of smart cities powered by ePaper technology.