Saturday morning cartoons – flying cars; sci-fi movies – intergalactic travel; transporters and touchless surgery. So much cool technology – and we couldn't wait. All we really got was the microwave, Bluetooth and WiFi!
We're making a big leap into the future now withReviver in Granite Bay, CA, who brings us the first Digital Paper license plate. Not only does it provide the same information as traditional plates – with state and car license numbers - it has a direct line to the Department of Motor Vehicles, to synch registration information - and it can let everyone know when it's stolen!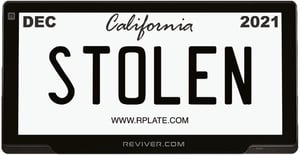 Oops! Photo courtesy of Reviver
More than that, the plate and the app can renew itself with a smart phone, help rental car companies and fleet managers track their vehicles and eliminate the need to stand in line for new license plates. Read that last part again – game changer!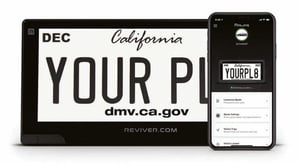 Easily controlled by a smart phone app. Photo courtesy of Reviver.
Reviver offers two types of Rplates – the baseline Rplate and the upgraded Rplate Pro™. The Rplate Pro™ has the ability to track, control and record driving behaviors. These attributes are attractive to fleets, and parents of teens will also appreciate the ability to know exactly where their teen's car is – regardless of whether the cell phone is in the car or if the manufacturer offers that feature. Geofencing is also available – real time alerts if established boundaries are breached. No excuse for bringing home the car late!
The implications for public safety are not insignificant – Amber and Silver alerts, theft alerts, instant identification of lapsed registration are the beginning. E Ink's Digital Paper makes refreshing the plate immediate. Lose your registration sticker? No worries – it's pushed through to the Rplate. And because E Ink's technology is bi-stable – meaning that an image only takes power to change, and not to maintain an image, the Rplate functions off battery, and both plates retain their image even in severe crash testing. Thanks to the reflective nature of E Ink's technology, the plates are highly visible in direct sunlight, are readily illuminated by the existing license plate lights, and have a wide viewing angle for readability in any conditions.
Then the mods – we need the mods! Reviver offers a long list of banners – one line at the bottom of the plate to support your sports team, alma mater, and your state of mind – all controlled through the app.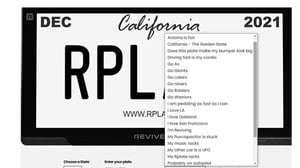 How are you feeling today? Photo courtesy of Reviver.
E ink and Reviver have collaborated on a white paper – Digital Paper for Smart License Plates. Rplates are available in California and Arizona. More states are considering adopting the plates. Rplates are legal in all 50 states.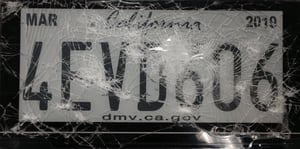 Even damaged the Rplate is still readable
Recently, principals from Reviver and E Ink discussed the evolution of the Rplate via Instagram live stream. Check out the session here.
License plate technology hadn't changed since the introduction of stamped metal plates in 1903. For California and Arizona vehicle operators, the future is today.