A common question at events is some variation of: when will you put E Ink Digital Paper on a phone? So I guess you missed all of these introductions – read on!
Motorola Motofone F3 – lightweight and low cost, June 2006
Designed to be lightweight and accessible to huge markets across Asia Pacific, the F3 had an early Digital Paper screen. Since the entire display is pure plastic, it can be dropped with no fear of breakage, and the thanks to E Ink – the need to charge was measured in days or weeks rather than hours. We have a few kicking around the office – it's a neat phone. I really love how lightweight it truly is! Read more about its history here.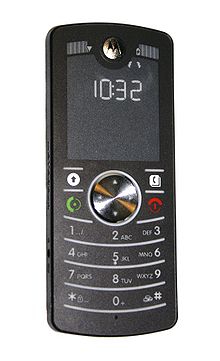 Motorola Motofone F3 – Image: Wikipedia
Samsung U750 Alias 2 – dual keyboard – May, 2009, dual hinge clamshell
My first cell was an Audiovox – not quite the candy bar style we're used to now. It was more like a brick – and weighed more than my wallet. That's saying something – I have a clutch wallet with checkbook & register (that's a trivia question for most of my readers), photos, ID cards and charge cards (kids, that's what we used at the store before everyone had a bank card – e.g. Visa, Mastercard, Amex, etc.). And every receipt I collected for at least 2 years.
But the Samsung Alias was my favorite phone. I really like my current Samsung, but the Alias was special. It sported a dual hinge – open it like a flip phone to make calls. When you wanted to text – flip it in landscape – they Digital Paper keyboard magically changed from phone format to QWERTY! The keyboard cover was raised for each key – my texting was 100% the first time! No auto correct either – that was a bonus. I miss that phone. Link to a write up.
Video link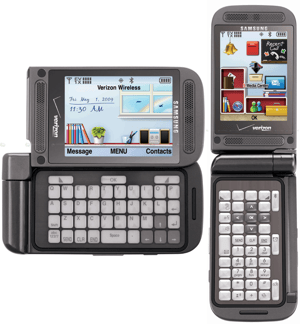 Samsung Alias 2 – Image: Pinterest
Yota Phone 2 – back Digital Paper, 2014 release
An Android phone with a secret – a smartphone with an E Ink Digital Paper screen integrated into the cover. Display photos, calendar, weather – whatever. Not sold in the US – I would have bought it!
The impact of the Yota Phone 2 married the OMLED and Digital Paper. Gamechanger! No longer did you need to worry about your boarding pass on your cell phone – just "pass" it over to the E Ink screen, and it's there for scanning with no need to swipe your phone on. Want to read on the subway or store, without eye fatigue? Send your book over to the E Ink side and read in comfort, while saving battery life.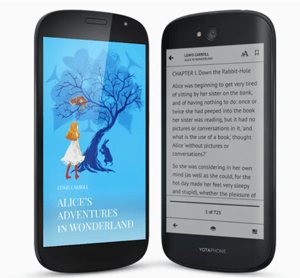 Yotaphone2 – Image: Wired.com
Huawei P8 – E Ink Digital Paper cover, 2015 release
Following the Yota Phone 2 was the Huawei P8. The P8 was marketed to the eReader crowd. The secondary 4.3" E Ink screen is usable for reading, while the traditional display is reserved for video. It's a great multi-tasking tool for travel. Who wants to juggle multiple devices? That just opens the door to leaving an eReader in the seat pocket of a plane, or worse – crunching it in between seats on a trans-Atlantic flight! The stories I've heard!! And, reading on the E Ink display means significant power savings, meaning less of a need to searching for a charging port in the airport!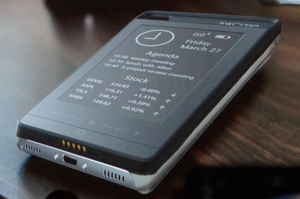 Huawei P8 – Image: Tech Pronged.com
HiSense A9 – Digital Paper main screen
The brand new Hisense A9 broke new ground with a Digital Paper display right up front! Blend a smartphone and eReader – easily readable in bright sunshine, crisp E Ink Carta 1200 display with HyperWave for a 33% faster refresh rate. Whoa!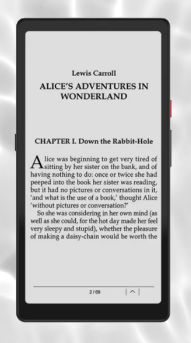 Hisense A9 – Image: ReviewGeek
Hisense A7 CC – Color Digital Paper
In March, 2021, GoodeReader reviewed the Hisense A7 CC – with a color Digital Paper screen! The third phone with E Ink by Hisense incorporates the new E Ink Kaleido 2 technology which boosts greyscale uniformity and color accuracy. Like all E Ink Digital Paper, the A7 is easily readable in bright light. Hisense used the E Ink technology to create new features – like, screen shots. Instead of doing a Twister move with several buttons, you just need to drag three fingers from the top of the screen to the bottom. Hold up, I need a minute!!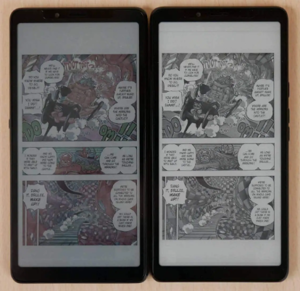 Hisense A7 CC – Image: GoodeReader
Light Phone II – Digital Paper screen and nothing distracting
Light Phone debuted in 2019 with a curious premise – make calls and send texts. That's it.
No camera, no browser, no apps. Make calls and send texts. Really?
Yes, really. You can add it to any cell plan. And make calls and send texts.
Smaller, lightweight – it's ideal for making calls and sending texts. For some of us, that's all that's needed.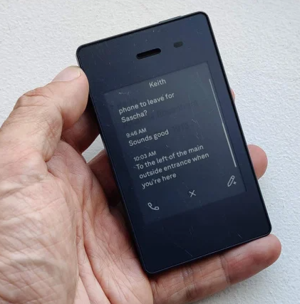 Light Phone II – Image: PCMag.com
Do you use an E Ink enabled phone? Which is your favorite? Drop us a line and let us know!