Since 2016 Papercast has created ePaper displays using E Ink for passengers to receive real time bus schedule information directly at the bus stop. The superior visibility of ePaper, even in direct sunlight, and the low power consumption enables these displays to be installed almost anywhere – solar power cells and WiFi negate the need for cables and wiring.
Airline terminals and train stations were the next markets for Papercast's ePaper displays.
Visit the Papercast blog for more information.
Characteristics of an ePaper Display
Two unique and important characteristics of ePaper by E Ink is long battery life and sunlight readability. The long battery life is due to low power consumption – the bistable ePaper module draws power only when refreshing the image, whereas other display technologies need power to both change and display an image. This attribute enables solar-powered ePaper signage and bus stops around the world to be net-zero devices, using 100 percent renewable energy.

Power consumption of various 13" devices. Image: Papercast
Since E Ink's ePaper displays are reflective as opposed to the emissive nature of LCD displays, ePaper is vastly more readable in full sun. For night, a low power front light provides illumination.
Finally, the bistable nature of ePaper means that interrupting the power (battery or solar) will not result in a blank display. The last image will stay on the display until the power is restored and the image is refreshed. This is important because displaying information is preferable to a blank screen.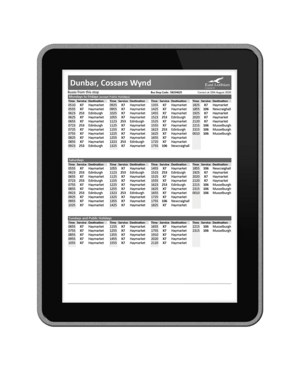 Example of a static image during an interruption in power. Image: Papercast
Temperature Range and Performance
Papercast has improved the temperature range of ePaper displays – certified from -20o C to +70 o C / -4 o F to +158 o F through their unique housing. Whether in the heat of the Middle East or the cold of the Northern Hemisphere, Papercast displays continue to be as clear as ink on paper.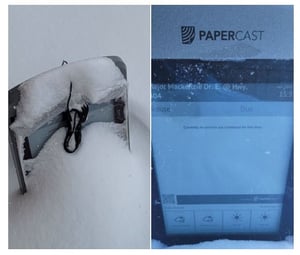 Papercast in Canada. Image: Papercast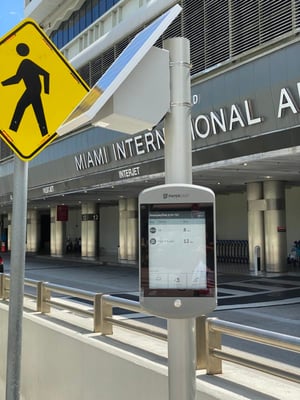 Papercast in Miami. Image: Papercast
Different display mediums have different pros and cons – LCDs are fantastic for showcasing videos and saturated colors, but in areas that need to convey non-video information, with limited access to power, E Ink's ePaper displays can enable installations otherwise not possible. In today's world, where cities are asked to become smarter, while also being mindful of environmental concerns, ePaper is an option that can provide both benefits to city planners.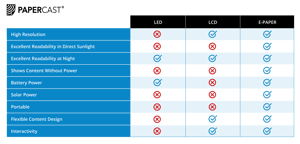 ePaper comparison to LED & LCD. Image: Papercast
Have you seen ePaper displays from Papercast at bus stops? Would these displays help you navigate public transportation?