2021 is shaping up to be a banner year! Fujitsu's Quaderno A4 and A5 eNotes are now available for sale in Japan and also through the Good eReader!! Choose the size you prefer – the A4 is 13.3" and the A5 is 10.3" Both models contain E Ink Carta 1250.
And this is exciting because? Because this eNote combines many great features of earlier eNotes. My experience is largely withthe ReMarkable and the Sony DPT-CP1 10.3" eNotes.
Good eReader has provided an excellent unboxing video – check it out for a comprehensive discussion of features.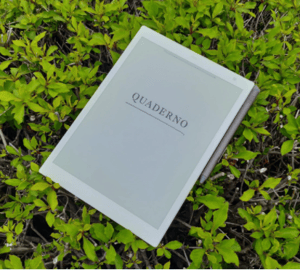 Image credit: Good eReader
Good eReader has also published reviews on their site – check it out.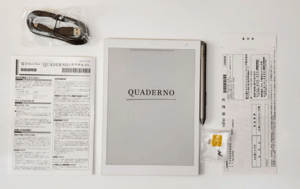 Image credit: Good eReader
What is different?
The Quaderno shares similarities with current eNotes. What's new from Fujitsu is a Daily Schedule template – a template with a full year of dated month at a glance pages. Choosing a day will show a full day to add notes. Current calendar templates are a To Do type list to which you manually add a date. I like this Fujitsu template a lot!
I was impressed by the import feature from ScanSnap – an integrated scanner from Fujitsu. Scan and import docs in one process. That's handy, especially when I'm out of the office. The scanners range in size from desktop to small and portable. Click here to investigate the models. This is the ScanSnap iX100 – designed for mobile users.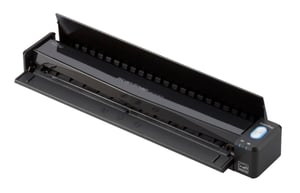 Image credit: Fujitsu
The Quaderno supports Wifi, NFC, and Bluetooth connections. Security is by password or NFC card.
What is the same?
Quaderno shares features with other eNotes. The menu is similar to Sony eNote and easy to navigate. Split screen is supported. The pen attaches magnetically to the Quaderno – always at the ready, and is rechargeable. I like the pen because the erase function is on the pen, not in a menu and the truth is, I erase a lot! Another personal preference - I like a small tablet case for my eNote – it protects the screen and keeps the pen from getting lost in my bag. I stash some business cards in the case because you never know when you'll need to share a card.
I haven't gotten the Quaderno in my hands yet – I'm looking forward to taking it for a spin! It's exciting to see new eNotes – I'm a convert as are most of my colleagues.
What are your thoughts about eNotes? What features would you like to see? Contact us at info@eink.com.