One of the many questions we are asked at E Ink centers around the incorporation of ePaper in digital signage – why, how, and what do we need to know to be successful?
The answers vary with every project. While E Ink knows ePaper, our partners – who actually build the finished products – have already worked out the details for many applications. So, let's ask a partner how to build an ePaper display.
Visionect has posted a comprehensive summary of questions to address when creating a new display application, followed up with answers provided by ePaper technology. Take a read – it's a fascinating topic, well explained by our partner.
https://www.visionect.com/blog/lcd-led-roadblocks-e-paper-can-solve/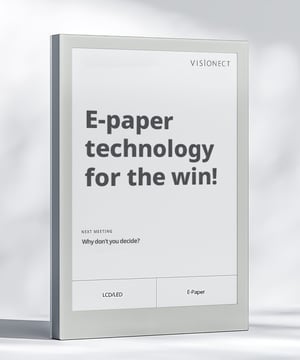 Credit: Visionect
How Different is ePaper?
Actually, really different. ePaper is proven to be more like actual paper. The reflective nature of ePaper guarantees you can't confuse this display with LCD. E Ink holds the world's first paper like display certification.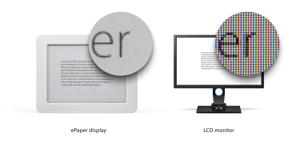 Credit: Visionect
But is ePaper Sustainable?
Sustainability and related concerns about the health of our planet are critical as the temperatures rise and weather patterns become increasingly volatile. ePaper is inherently sustainable – long module life and low power requirements are built into ePaper displays.


Credit: E Ink
In fact, we just announced the carbon footprint of our 6.8 inch ePaper module for eReaders and our 2.9 inch ePaper module for electronic shelf labels (ESL) have been verified by the British Standards Institution (BSI), as being in compliance with the ISO 14067:2018 standard. The carbon footprint of every 6.8 inch ePaper module is 3.30 kg CO2; every 2.9 inch ePaper module is 0.59 kg CO2e. You can read the full release here: https://www.eink.com/news.html?type=releasedetail&id=2793&year=2022&page=1. E Ink is a member of the Climate Pledge (TCP), the Science Based Targets Initiative (SBTi) and The RE 100 and has a goal of 100% use of renewable energy by 2030, and net zero carbon emissions by 2040.
How to Get On Board with ePaper Solutions
Step 1 – contact E Ink or an E Ink partner like Visionect.
Step 2 – start creating!