Spoiler alert – nothing bad happened. I tested negative for COVID (and variants!) when I returned home. Now you can read this post without worry!
My last in person tradeshow was CES20 – January, 2020. It was hectic and crazy, as always. I had a cold with cough when I got home – as I usually do after cross country flights (Massachusetts – Las Vegas). It passed, like it usually did.
Since the shut down in March, 2020 and the gradual reopening in the months since, I've produced a few virtual tradeshows for E Ink. Talking to attendees via chat, text or online conferencing was different. Our booth visitor scan rate was the best ever – every visitor was logged every time they entered the virtual booth. And I didn't have to wait in long lines for coffee or food.
The downside was no real conversations, no chatting up other exhibitors. I didn't realize that I missed that interaction. It is also hard to show off E Ink's technology through an online platform! Seeing really is believing… And - no swapping of booth premiums (tchatkis).
HIMSS20 was cancelled just as our freight was rolling into the hall. I didn't even get to Orlando. After the first dates selected were delayed, the August 9-13, 2021 dates were announced.
I was actually rusty! I needed to remember some basics – communications with our partners and staff, all the confirmations required, and how far everything is in Las Vegas!
I was concerned about the flights but they were uneventful. Everyone behaved!
At the hall, there were some holes where exhibitors had canceled the week before. But E Ink and Avalue were there! And according to HIMSS21 show management, about 19,000+ attendees and exhibitors were there too!
We start with an empty hall.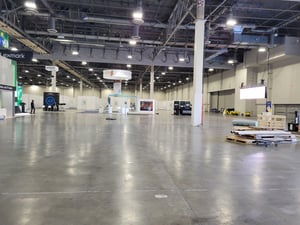 Sands Expo - How it starts. Photo: E Ink
We shared our booth with Avalue, and themed it for clinical settings – patient room, exam room, lobby area. We showed a range of products featuring Digital Paper and our partners included some other products without Digital Paper. The 42" module was exhibited in several contexts.
This wall depicts a patient room with various types of displays. E Ink's 42" Digital Paper display is used in a Patient Information Whiteboard. Our partner, Avalue, manufactures this unit. The care experience platform is by eVideon.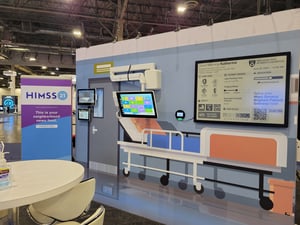 Patient room example. Photo: E Ink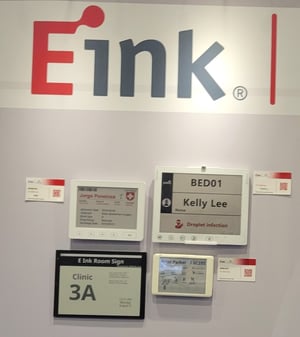 Examples of Patient room signs. Photo: E Ink
The 42" Digital Paper demonstrated its versatility. Wayfinding, menu board, Patient Room directory or advertisement. What information will you display on your large format Digital paper module? These are examples from Avalue, Dsignage, 22Miles, and QuirkLogic.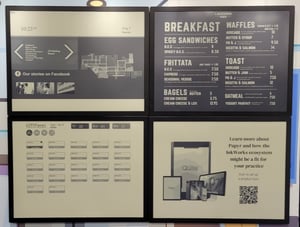 Large displays. Photo: E Ink
An example of a wayfinding application designed by Avalue and Dsignage, with an E Ink Digital Paper large format module.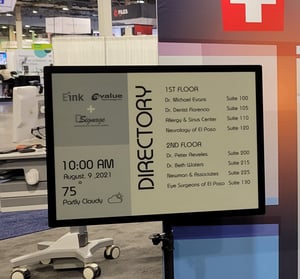 Wayfinding. Photo: E Ink
Another popular wayfinding exhibit was Soofa's kiosk. The Cambridge, MA based company provided specialty content for HIMSS21.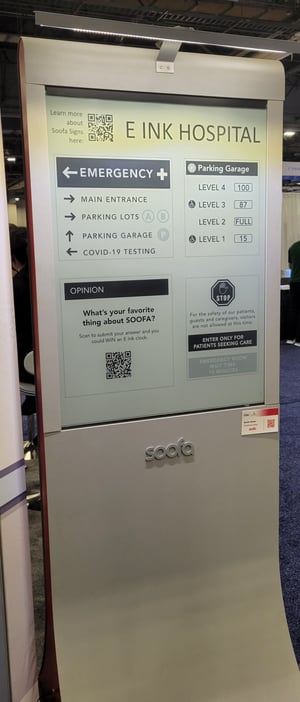 Soofa Kiosk, by Soofa. Photo: E Ink
Don't think it was all work, work, work! We had a little downtime at the Grand Canal Shoppes. It was like being in Venice, but we skipped the flight!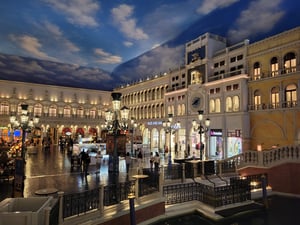 Venice, almost. Photo: E Ink
There are lots of photos of meals, caffeinated beverages and gelato, but I won't bore you with those. Ok, maybe just one.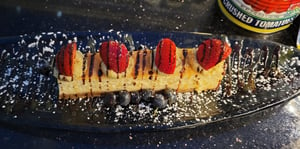 Cheesecake at Mercato Della Pescheria. Photo: E Ink
Calcium and fruit – very healthy! Antioxidants in dark chocolate – perfect!
As we return to in person events, it's heartening to see some of the old practices coming back – like meeting people and sharing meals. And we're learning new tricks – how to navigate post pandemic culture.
Stay tuned for more travel and events from E Ink. A video booth tour will be available soon on our YouTube channel. Subscribe and click the bell for notifications.