Hey, you got a new eReader or eNote for the holidays! Cool!
Now what?
Well, you need to set up your new productivity aide. Once you follow the instructions to create an account, confirm settings, hook into the wifi – you're all set!
Well, almost. In the matter of eReaders, you need to choose where to get your content. Amazon is usually the first stop – to buy books and create a wish list. Wishlists are great – you can distribute a wishlist to friends and family like a registry – this way your loved ones can hook you up with your desired content.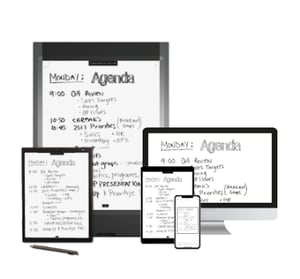 Don't forget – many eReader apps are downloadable to multiple devices – you can access your content on your eReader, phone, laptop or tablet. Convenient – the app monitors where you are in a title, so you can pick up where you left off easily on another device. https://www.amazon.com/Kindle-eBooks/b?ie=UTF8&node=154606011
Kobo users – the Kobo site has the apps for download – iPhone, Android & desktop – and content at https://www.kobo.com/us/en.
Barnes & Noble set – hardware and software, as well as content – available at https://www.barnesandnoble.com/.
As for eNote devices, one of the most exciting functions is the sync function. With that feature, you can upload to your device and sync with files on your laptop. Why would you want to do that?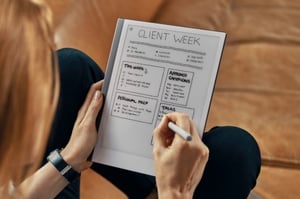 Here's an example – you need to sign a document – really sign it, not electronically sign it. It was sent to you by email or you downloaded it online. You're first thought may be – I need to print this, sign it – in blue ink – and scan it back to a digital format, then email or upload it.
But this is really how it's done – check the digital app that is specified for your device. This app is for your hardware only. There will be instructions on downloading from your laptop or tablet to the eNote. Once the doc appears on your eNote, open the doc and sign or annotate it.
Back in the app, you can sync or upload that document to your laptop or tablet to email or upload to a site.
Some eNotes have OCR features – optical character recognition. This will transform your handwritten notes to a digital file. Using the sync or upload feature, you can easily distribute meeting notes, outlines, drafts – whatever you create – to a group or a project management campaign.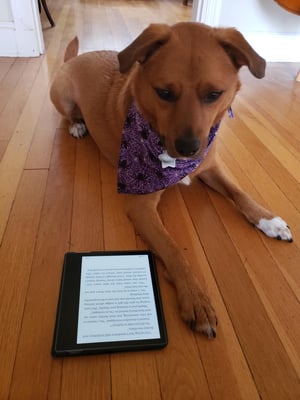 Brady downloaded A Christmas Carol - his favorite read
These are a few of the cool aspects of eReaders and eNotes. Congrats on your new pathway to productivity!