Congrats to Faubel-Logistics on their award! The global publication Materialfluss focuses on intralogistics, targeting all involved with internal logistics – more than 20,000 subscribers. Over 49 years, the publication has been the source for logistics intelligence, vendor selection and in depth market information. Materialfluss selected Faubel-Logistics Label for the second place award for their electronic paper label in the Material Flow Product of the Year category this year.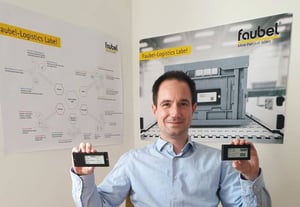 Frank Jager, Managing Director of Faubel-Logistics. Image courtesy of Faubel-Logistics Labels.
This is an honor for Faubel-Logistics Labels and just as importantly, is recognition of the sustainability and environmental impact of E Ink electronic paper. Namely, the digital label is a great example of a highly sustainable product with low environmental impact on our planet.
The technology behind the electronic label includes RFID and battery-less configuration. The tag can be used countless times – saving materials and production of paper labels. Did you see the part about the label requiring no battery? How is that possible?
RFID technology and bi-stability, of course! E Ink's electronic paper requires power only when updating. The RFID field provides the power to update the image. The image is fixed and the bi-stable nature of the electronic paper means that no power is required during its use in the logistics process. This image can last decades – we have an example of early generation electronic paper that was updated over 20 years ago!
Adding to the sustainability package is the way the electronic label is manufactured. The Faubel Logistics label requires no maintenance. Adding the electronic label requires no special mounting hardware – hook and loop tape is sufficient.
The significance of reusable products like the electronic label – similar to electronic shelf tags, signage, wayfinding, and other electronic paper - is the sum of all of these features. Sustainable, low power, no maintenance and easy updating make this the smartest label on the planet. And the planet is grateful!
Learn more at Faubel-Logistics: https://www.faubel.de/en/nc/detail/product-of-the-year-selected-by-materialfluss.html and LinkedIn: