What's happening in healthcare and ePaper? Join us this fall to find out.
September 18-20, Boston – The Patient Experience Symposium
https://www.patientsymposium.com/
Seminars, speakers, round table discussions – lots of opportunities for networking. And E Ink will be there! The venue is The Westin Waltham Boston. Check out the speakers.
Florida Hospital Association's annual meeting in Orlando, FL October 4 – 6, at the Ritz Carlton. Dr. Deborah Birx (remember her White House press briefings during COVID?) among other notables will address the attendees. Spoiler alert – I'll be at the E Ink cabana. Aren't you intrigued about the cabana?
https://www.fha.org/FHA/FHA/Events/Annual-Meeting.aspx?hkey=1767e595-55f7-4af2-b270-491aa92b5d95
November 4-7, New Orleans will host the Healthcare Design Conference & Expo
Join E Ink in booth #200 for demonstrations and updates on E Ink products. Stay for seminars and other networking opportunities. And it's in New Orleans, so there will be plenty to do when the hall closes for the day.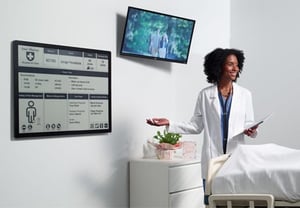 E Ink Digital Whiteboard. Credit: E Ink
Learn more – see E Ink digital paper in action!
Hope to see you somewhere soon!