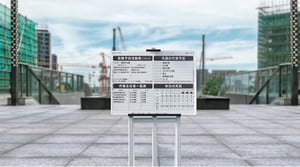 eWhiteboard 4200. Image credit: Ricoh
White boards are everywhere. You can find them in offices, schools, at home, at restaurants, in hospitals – wherever you are – you can find a white board. Dry erase markers only - you'll make the mistake of using permanent marker only once! Preserving your notes to share with meeting attendees – shoot a picture and email, of course! Meeting Etiquette 101.
Digital white boards aren't new. What is new is the E Ink and Ricoh eWhiteboard 4200 – introduced this week. Another white board with E Ink Digital Paper. Nice, but why the big announcement?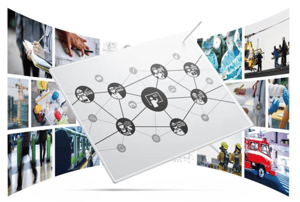 eWhiteboard 4200. Image credit: Ricoh
The eWhiteboard 4200 isn't just any Digital Paper device. E Ink and Ricoh created the world's thinnest – 14.5 mm / 0.575 inches – and lightest – 5.9 kg / just a bit over 13 lbs. Ok, nice. Why am I excited?
In addition to the ultra-low weight and slim design – because the 42" Carta display from E Ink is low powered and reflective – this eWhiteboard is the most portable device available anywhere on Earth. Yes, I said that. Anywhere! Take this device where other whiteboards fear to go – outside, to a function or construction site – it's waterproof and dust-proof. The internal battery will see you through a long planning session, training, debrief – whatever you need.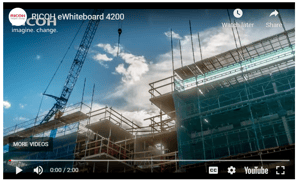 eWhiteboard 4200 video. Image credit: Ricoh
Take the lightweight eWhiteboard to school or the office – pick it up and place it anywhere – on a table, on an easel, or hang on the wall. Work collaboratively across remote sites – the eWhiteboards are connected by WiFi. The eWhiteboard application can be used on multiple devices – including laptops and phone screens.
What else can this eWhiteboard do? It can predictively convert handwriting to text! The Ricoh eWhiteboard also collects frequently used terms in a custom dictionary – no worries about misuse of specific words and facilitate easier proof reading.
Like all E Ink Digital Paper eNote devices, the eWhiteboard 4200 has a paper like feel when writing. The lack of light emission makes it ideal for patient and exam rooms – where bright displays could disturb the patient.
Ditch the dried out markers, erasers and cleaning solutions – this latest eWhiteboard from E Ink and Ricoh has raised the bar.