The world is an unforgiving place for outdoor signage. Think about it – extremes in temperature, barometric pressure, wind, precipitation – rain, snow, hail – just short of fire and brimstone. Well, fire is a consideration, too!
Those are the fairly easily predictable forces of nature. More difficult to predict are the forces of a wily species – humans!
Humans are destructive machines. Creative in their destructive ways – and unpredictable!
Imagine a kiosk out in the world – alone and vulnerable – seemingly unprotected. Or is it?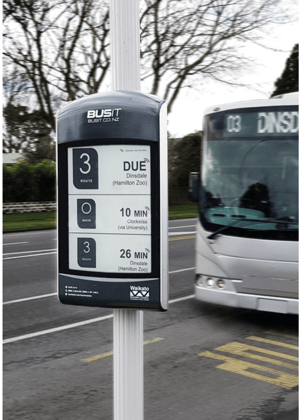 Image credit: Radiola Land
Mercury Innovations and Radiola Land have created a virtually impermeable kiosk with E Ink Digital Paper in use in New Zealand. Click here to see the video – warning – graphic images of vandalism! Be prepared!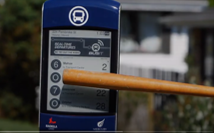 Image credit: Radiola Land
Real world testing included impact, 'keying' (scratched with a key), high pressure water, open flame – even a heavy duty staple gun couldn't damage the E Ink Digital paper.
How can this be possible??? The eStop Smart Signage developed by Radio Land and Mercury Innovation includes four layers of protective sheeting. When a layer endures extensive damage, the kiosk can be quickly removed (by a technician) and the protective sheet peeled off within five minutes. Watch the video – it's amazing!
Contact E Ink to create digital signage that can withstand the elements – and human intervention.