The 56th annual CES conference took place earlier this month, and the show gathered the technology industry's brightest and most curious minds. As the industry evolves, CES adapts to expand its original focus on consumer electronics to include a convergence of enterprise and consumer technology.
Each year, CES gives us a glimpse of the future of technology – and this year, it was no different. From EVs to biometric wearables to smart home gadgets, CES 2023 put new and innovative products on center stage – some of which you never knew could exist.
While innovation continues to be the key focus at CES, this year, technologies that enable personalization, and robust and dynamic experiences stole the spotlight.
BMW i Vision Dee: From Black and White to Color
At last year's CES, BMW brought the iX Flow concept car onto the stage wrapped in the E Ink Prism film, create shifting grayscale patterns all over the body of the car. Thought we'd stop there?
This year, BMW wowed the CES crowd again with its i Vision Dee concept car leveraging E Ink Prism 3 technology, an evolution of ePaper displays. A rainbow of colors are displayed on 240 E Ink segments.
Colors spark a variety of emotions. Using color, the concept car conveys emotion through personalized experiences. It allows consumers to be more engaged in this increasingly digitally connected world.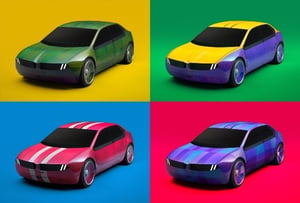 Credit: Android Authority
In an interview with Android Authority, E Ink's Timothy O'Malley explained the design difficulties to bring the concept car to life – the lines and curves of the car can be tricky to work with, so both the BMW and E Ink teams had to bend the materials to create the design. As BMW's engineer Stella Clarke said it, it really was "the best and most fun team work imaginable."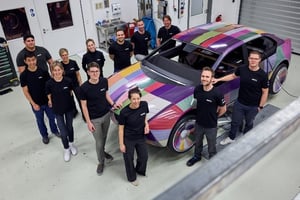 Credit: BMW, Stella Clark
Consumer Devices: Smart Paper Tablet and a Hybrid Smartwatch
Lenovo's ThinkBook Plus Twist gathered a lot of attention at this year's show – and for good reason. Its twistable form factor doesn't mean a compromise on the display or refresh rate. But what we also want to highlight is its new Smart Paper tablet.
With a 10.3-inch display, the Smart Paper tablet is built very much like a notebook. There's an anti-glare touch display. Wrapped in a sleek metal chassis, the tablet features a wide aspect ratio that's friendlier for avid note-takers.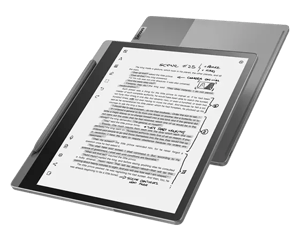 Image: Lenovo
What are some factors you consider when choosing a smartwatch? Perhaps battery life, minimalistic design, or if a watch has health tracking features? Fossil's new Gen 6 Wellness Edition Hybrid Smartwatch announced at CES checks all of these boxes.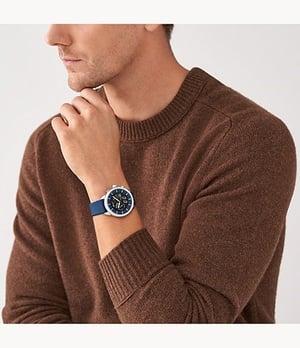 Credit: Fossil
Featuring an E Ink display, the smartwatch combines sensors and displays with analog hour and minute hands. On the background, health metrics such as oxygen saturation levels and heart rates are displayed. Users can also keep track of the weather, remaining battery life, and receive message alerts.
An eReader That You Can…Wear?
Startup Sol Reader introduced a new E Ink headset at CES. You read that right: an E Ink headset. How does it work? The headset is a lightweight head-mounted display with two E Ink displays, support for WiFi and Bluetooth, a USB-C port for charging, and up to 30 hours of battery life.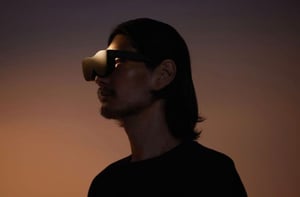 Credit: Liliputing
Now you can read your favorite books while lying down! The headset also features a wireless controller featuring page turn buttons.
What was your favorite thing you saw at CES this year?