2020 has been a challenging year, as COVID-19 continues to impact nearly every aspect of our lives. For some businesses, this year has also ushered in indefinite remote work, and companies of all kinds continue to hone their remote work policies and best practices. As some states begin to reopen, many organizations are opting to keep employees at home to comply with recommendations from the CDC.
While working remotely may improve employee health and safety, setting up an in-home office can be difficult on short notice. Luckily, technology can help. With devices like eNotes, eReaders and other E Ink-powered devices, anyone can create the ideal remote workplace to fit their needs.
For a Disruption-Free Workspace
Working from home can be a hassle without a designated space to focus and get things done. For those who live with family members or share an apartment with roommates, it can seem nearly impossible to achieve peace and quiet – especially for a conference call. Luckily, the Joan Home is the perfect device to minimize disruptions for your home office.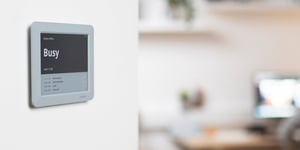 The Joan Home displays your current availability and calendar for the day. The device will display your current availability as "free" or "busy" to make it clear when it's acceptable for others to walk into your "office." Powered by E Ink technology, Joan Home is easy to mount and energy-efficient and since it has paper-like readability, itis highly visible at all times of the day. Plus, since it's synced to your calendar, it's able to update itself in real time, which makes it easy to manage – unlike that sticky note you keep having to put on your door to keep your roommates from barging in.
For Digital Notetaking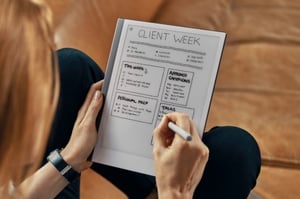 eNotes are powerful tools that make remote collaboration possible, even across a distributed workforce. Combining the nuances of handwritten notetaking with the collaboration capabilities that cutting-edge technology offers, eNotes are able to sync with desktop applications to easily convert notes into PDF files, and then save them on a computer to be passed digitally between coworkers. Not only does this reduce the need to physically scan and copy documents, but it also reduces paper consumption and eliminates the endless supply of pens on your desk.
Whether it's the Sony Digital Paper or the reMarkable 2, eNotes help remote workers maintain productivity while also creating a sustainable home office.
For Reducing Eye Strain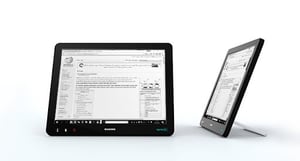 When you're working from home, it can be hard to walk away from the screen to take a break. Being in front of a computer for hours can strain your eyes and cause headaches, but an E Ink monitor like the Dasung Paperlike HD makes working on a computer more bearable. It doesn't emit a back light or blue light, so it's not as harsh, and it's also glare-free, which means it's readable in natural light and low light settings.
For those who prefer working on laptops, the Lenovo ThinkBook Plus is a device that has an E Ink screen on its lid. The ThinkBook Plus operates like a regular laptop, with a normal LCD screen, keyboard and touchpad. However, once the lid is closed, it operates as an eNote, allowing the user to review and annotate documents with a stylus. This is ideal for workers who have to review documents frequently for extended periods of time, and allows them to read on a device that's easier on the eyes.
With the remote working environment here to stay, these E Ink-powered technologies can make your dream home office a reality.