We are in a season of holiday celebrations, a season of hustle and bustle, and a season of giving. While December is a time we tend to think more about the spirit of giving and receiving, it's a need that our global communities have year-round. And we strive to be good corporate citizens by taking part in activities that help make communities safer, stronger, and more resilient.
eRead for the Future Project
The "eRead for the Future" project is an exciting and meaningful initiative that helps educate the next generation through a more engaging reading experience. This year, E Ink donated a total of 1,000 color eReaders with 103K eBooks to children in Penghu County, Taiwan.
These devices are powered by E Ink's ePaper technology. It does not produce emissive light, helping protect children's visual health. The devices will also provide students with a more comfortable reading experience and help reduce digital distractions.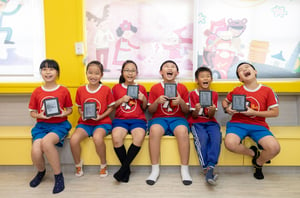 Image: E Ink
Reading is one of the most important parts of a child's education. And we are proud to have been participating in the "eRead for the Future" project over the last six years.
Supporting Ukraine Relief Efforts
We are committed to working with our ecosystem partners around the globe to help affect change and create a better future through the use of sustainable technologies.
Earlier this year, we donated $150,000 USD to UNICEF to support the relief efforts in Ukraine. Some of our global employees and customers have a deep connection to the country. One of our customers, PocketBook, has an R&D and representative office in Ukraine, and amid Russia's brutal attacks against the country, it was even more crucial for us to show up to the people there to provide support.We navigate through these difficult times together as a community and come back even stronger. This July, PocketBook celebrated its 15th anniversary since its founding in 2007.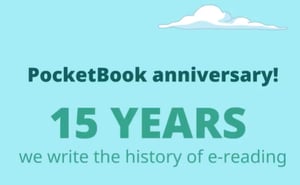 Image: PocketBook
Our partners and customers continue to show incredible resilience during these challenging times. Thank you for your perseverance, your unbelievable dedication to what you do, and for continuing to just show up for your customers.
Cheers to the start of a fruitful and busy holiday season!