2022 is the year for color E Ink!
From E Ink Kaleido 3 to Spectra 3100 Plus to the recently released Gallery 3, display labels and eReaders are becoming more vibrant and rich in colors.
Check out the latest innovations in color ePaper technology.


A Faster, Brighter Reading Experience
E Ink Kaleido 3, the next generation of print color ePaper technology, offers richer colors along with 16 levels of grayscale and 4096 colors. And compared to the previous generation, E Ink Kaleido Plus, it increases color saturation by 30 percent for an improved reading experience.
Kaleido 3 also uses E Ink ComfortGaze, a new front light technology that reduces the amount of blue light, with a reduced Blue Light Ratio (BLR) and Blue Light Toxicity Factor (BLTF) by up to 60 percent and 24 percent respectively.
Additionally, faster ink means that Kaleido 3 can even play animations and videos. Who doesn't want that in their eReaders?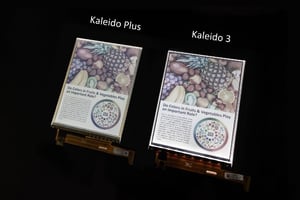 Credit: E Ink
Colorful eReaders and eNotes, Here We Come!
E Ink Gallery 3 shares some similarities with Kaleido 3. For example, both are compatible with ComfortGaze for a more comfortable and enhanced reading experience; but Gallery 3 has its own unique features.
It incorporates substantial improvements compared to the first gen. It has improved resolution and a much faster update time. For example, the previous generation was 10 seconds and the new generation updates in as little as 500 milliseconds.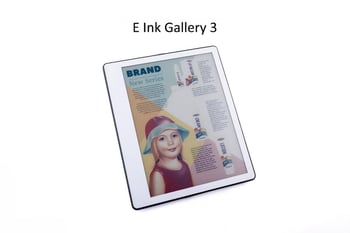 Credit: E Ink
The Future of Retail is Colorful
Digital transformation has driven retailers to accelerate the adoption of Electronic Shelf Labels (ESLs). Over the past seven years, there have been more than 600 million ESLs installed globally.
With ePaper technology's low energy consumption, solutions like the newly introduced Spectra 3100 Plus are in need to not only support consumers' sustainability needs, but also allow retailers to gain real-time visibility for inventory management. The technology reduces the need for manual processes so retail staff can focus on what truly matters: their customers.
Spectra 3100 Plus is built for retail and adds orange to the color lineup of black, white, red and yellow. It also adds E Ink Sparkle, creating a partial image flashing effect to catch eyes in busy retail environments.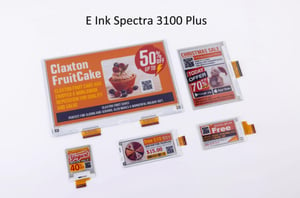 Credit: E Ink
Come join us at Display Week 2022 at booth #626 where you can experience some of these technologies in person!