The fourth and final supermoon of 2022, known as the Sturgeon Moon, occurred on August 11.
A supermoon is about 17 percent larger and 30 percent brighter than when a full moon is at its farthest point from Earth. For casual observers, the difference might not be that noticeable, but for sky watchers, it's a wonderful sight on a clear night.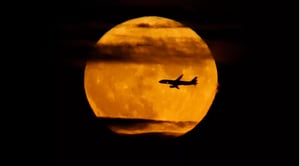 An airplane flies in front of the Sturgeon supermoon on Aug. 11, 2022, as seen in West Orange, New Jersey.
Credit: Gary Hershorn/Getty Images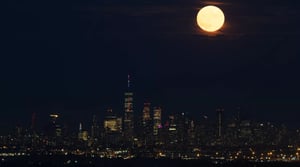 The Sturgeon supermoon rises over New York City on Aug. 11, 2022.
Credit: Tayfun Coskun & Anadolu Agency/Getty Images
Something Else Is In the View
Moon gazing's worst enemy is light pollution. And for a lot of us city dwellers, light pollution is something we encounter daily.
The excessive use of artificial light – from advertisement billboards to exterior lights on commercial buildings to streetlights – affects our ability to truly appreciate the dark sky. It can also cause serious environmental consequences.
Just take a look at the before and after of the 2003 Northeast blackout – a massive power outage that had the side effect of showcasing what a natural dark sky truly looks like.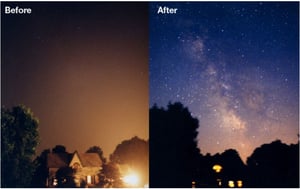 Credit: International Dark-Sky Association (IDA)
The Need for Sustainable Technology
As cites digitally transform, there's an increased need for sustainable display technology to connect people and their communities.
It's great to see that many cities are becoming more conscious of their carbon footprint and are taking actions to reduce light pollution and electricity waste.
Pittsburg, PA recently became the first large urban city to pass a dark-sky ordinance. There are a growing number of smaller cities and rural or natural areas that have registered their commitment to reducing the light pollution emitted with the International Dark-Sky Association (IDA).
According to the National Conference of State Legislatures (NCSL), as of 2016, at least 17 US States and the District of Columbia and Puerto Rico have laws in place to reduce light pollution, including Arizona, which has light pollution laws dating back to 1986.
Reducing light pollution is a collective effort. Signage and display companies need to invest in solutions like ePaper technology to ensure displays are sustainable and energy-efficient.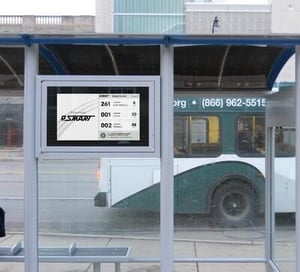 Credit: E Ink
For those of you who missed the Sturgeon supermoon, look out for September's full Harvest Moon. It will appear after sunset on Friday, September 9.
Pro tip: Dark Sky Finder is a great tool to check out the places near you where you can truly appreciate a dazzling moon show!