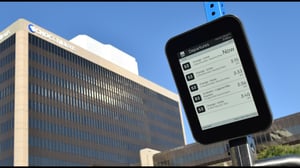 Information signs using Digital Paper are enjoying accelerated growth within the world of transportation and outdoor signage. Thanks to its unique properties (daylight readability, low power consumption – including solar power, and an always-on feature), municipalities, transit agencies, and private companies are deploying an increasing number of Digital Paper bus stop and train station signs, information kiosks, and on-vehicle signs. Whether a stand-alone or combined with other display technologies, Digital Paper displays deliver RTPI (real time passenger information), advertising, and community updates.

Watch this exciting 30 minute webinar and learn how Digital Paper can advance your Smart City agenda. Learn more about Digital Paper deployments across the globe: http://go.eink.com/sign-up-for-our-transportation-webinar

Who will benefit from this webinar?

- Providers of signage and wayfinding

- A/V professionals

- Public transportation services

- Interactive product and content services

-

IT integration services





About the presenter

In his role as Sr. Business Development Manager for E Ink's Signage group, Jonathan is responsible for promoting Digital Paper technology for various outdoor and indoor applications. Prior to E Ink, Jonathan held business development, product management, and technical marketing positions with Bayer Materials Science, Siemens, and Thermo Fisher Scientific in the fields of electronic materials, LEDs, and analytical instrumentation. Jonathan holds a PhD from the University of Aachen, Germany (RWTH Aachen) in the field of high temperature ceramics for aerospace applications.