It's hard to imagine that it is already February of 2022 – where did the time go? For months, we've been working to make it to 2022 and kick off the year with new tech at CES. We are sure you saw the amazing dynamic surfaces showcased at CES. Pretty cool, right?
While we do have some exciting new announcements coming later in the year, we wanted to switch gears and shine the spotlight on our partners. What have they been up to lately?
The Door Sign Reinvented
We recently inked (no pun intended!) a new partnership with Dory – an elegant, modern and future-proof solution that brings a touch of style and personality to your spaces.
Dory's door signs feature beautiful illustrations and designed templates in a wide variety of styles. You can also set up temporary messages to welcome your dinner guests – or tell the delivery guy you're back in five minutes. Say goodbye to post-it-notes!
What's cool about Dory is that the frames feature E Ink's low-power display technology. They hold a static image without needing any power at all and can show text and illustrations with impressive detail and clarity.
With Dory signs, you can start personalizing and getting creative with your space!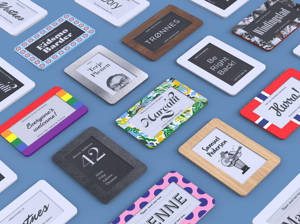 Image credit: Dory
Ruggedized Display Solutions to the Rescue in Cold Climates
E Ink's partner, Papercast, provides ruggedized ePaper displays that are tough and durable in challenging environments – extreme cold, heat, in heavy rains or snow conditions, you name it.
Well, we had to put that to the test and bust the myth that display solutions can't survive cold climates.
When Canada was recently hit by snow and extremely cold weather, Papercast's ePaper display not only stood the test of challenging weather (-18.4 degrees Fahrenheit), it also managed to deliver important transportation updates in real-time.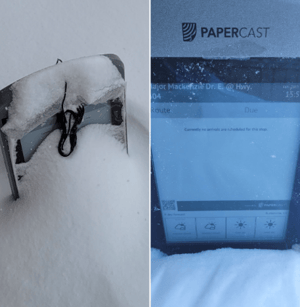 Image credit: Papercast
Our Cities Are Smarter Thanks to Display Technology
Digital signage is the perfect solution for transportation, smart cities and remote areas. Our partner, Digital View, recently rolled out a new 13.3" display test unit. The unit is set up and ready out of the box for developers to plug-and-play potential applications for how they can keep communities informed with the latest transportation updates.
Powered by E Ink technology, the display is visible in ambient and direct sunlight. Another area where it excels is in its ability hold an image with zero power, providing a sustainable solution that makes a difference in the community.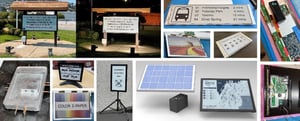 Image credit: Digital View
Follow our partners on social media to see what new and exciting projects they have coming up this year!