Have you seen electronic shelf labels in stores yet?
If you answered no, you are bound to see them soon as they proliferate across retail segments and drive brands towards digital transformation, especially those already working towards multichannel or omnichannel business models.
Already in major retailers from technology to grocery to home improvement, electronic shelf labels (ESLs) give retailers the ability to update pricing information remotely, without needing to waste paper printing physical tags or use precious employee time changing them manually. With this reduced overhead needed to keep pricing information up-to-date, retailers can offer more dynamic pricing, regularly updating prices as the market demands. They can also reduce or even eliminate human error, respond to customer traffic patterns in real-time, reduce waste, and display promotions, all in one device. The benefits of ESLs are vast and varied, and the technology is quickly changing retail even more so since the onset of the COVID-19 pandemic.
Want to check out a few E Ink-powered ESLs currently in stores? Let's take a tour.
Technology
Consumer technology retailers have been getting into the ESL game for a few years now, leveraging the technology to their already-tech-savvy customers. Earlier this year, Best Buy signed a deal with our valued partner, Pricer, to install E Ink-based ESLs in 119 of their United States locations by the end of 2021. With this move, Best Buy will save time, energy, and money and will be able to reduce foot traffic on store floors with remote update capabilities – critical during this age of social distancing and capacity requirements. No longer will employees need to roam the floors updating such signage – they can now do so from the safety of the back room.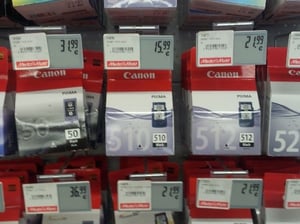 Grocery
In grocery stores, ESLs are critical given the sheer amount of products displayed on a single shelf, and the varied prices amongst them. These tags, if managed manually, would require ample time and energy, so a switch to ESLs makes perfect sense. With these units in place, it's easy to shift pricing or offer a deal as soon as supply and demand makes an impact on the market or competitors offer a coupon.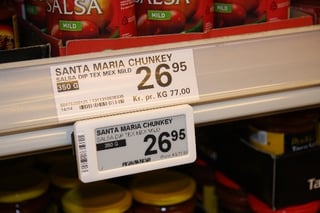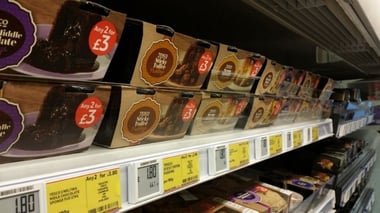 Kesko, one of the largest retail operators in northern Europe currently employs about 43,000 people, but with its recent ESL installation, fewer of those employees than ever before will have to head out onto the store floor to update them! Having chosen SES-imagotag as its ESL provider to bring more than 6.6 million ESLs to stores, both companies are excited about this step toward future-proofing operations across the region, and we're proud to provide them with the technology to make this possible.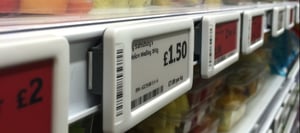 Home Improvement & Design
Yet another industry utilizing ESLs is the home improvement segment of retail. Home Depot, for example, is focused on its innovative multichannel strategy, which introduces the need to have easy-to-update ESLs in store to reflect online pricing and stocks.
While retailers can use these ESLs to display whatever information they choose, for Home Depot, these E Ink ESLs are perfect for giving customers the ability to view alternative sizes and colors of products, find out details like source materials, and more.
The CEO of Home Depot, Craig Menear, described the program saying, "digital appliance labels enable associates to be more productive with their time. Instead of spending multiple hours manually changing price signs, our associates can reallocate their time to engage with customers in a high-touch category."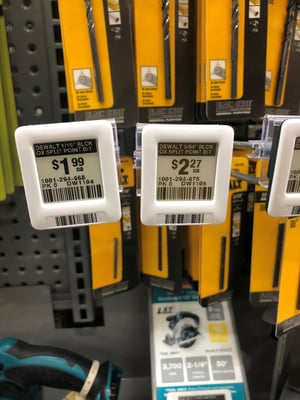 At RUFF Furniture, ESLs from our Korea-based partner SoluM are used to provide store information, hours, and pricing, and to flag sales to incoming customers in an engaging manner. Also leveraged at grocery stores and other retailers around the world, these ESLs integrate impeccable readability with ease of use to engage customers and reduce workload on employees.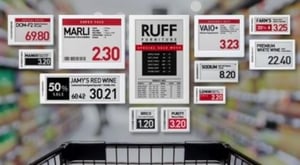 Still wondering about ESLs? Go check out your nearest big-box retailer and see if you can find some to see all the benefits for yourself!