In 2020, the COVID-19 global pandemic necessitated digital transformation across industries. Businesses started to think about new ways of doing things to help streamline operations and survive in this challenging economic climate. This included many businesses adopting connected devices and IoT technology for a number of innovative use cases. One IoT application seeing increased use are electronic badges, or eBadges.
Many facilities already rely on eBadges to allow people to access different parts of their buildings. As sports venues and factories update their existing systems, they will increasingly turn to eBadges with energy harvesting technology.
We partnered with E Ink to bring this to fruition and created a power-optimized eBadge reference design to extend the battery life of eBadge devices. The innovative reference design combines E Ink's low-power electronic ink technology with our M series – the industry's absolute lowest power Bluetooth LE platform – to enable the rapidly growing eBadge market segment. The cost-efficient eBadge solution can run on the same battery for multiple years or even have unlimited battery life with energy harvesting.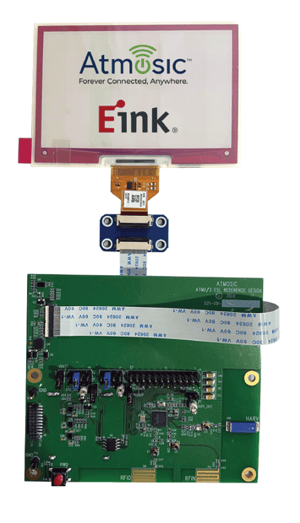 Image credit - Atmosic
The reference design features one of E Ink's 2.9" or 3.7" black and white displays, or a 4.1" Gallery Palette™ color display. Under a typical eBadge use case of three image changes per day, a small CR2032 coin cell battery will last over three years, but the use of energy harvesting can give the eBadge virtually unlimited battery life.
Using energy harvesting to extend the battery life of IoT devices is critical as it helps reduce the costs associated with replacing and maintaining the batteries used in these devices. It also helps to reduce the harmful waste caused by throwing away the growing amount of batteries each year. Let's take a step back to look at how energy harvesting works, and how it can achieve battery life that will last forever for IoT devices.
There are several popular methods of energy harvesting, including photovoltaic/solar, radio frequency (RF), mechanical (motion) and thermal. Based on application and use case each of the harvesting methods are suitable for creating the most effective solutions and in turn battery life. Atmosic's Bluetooth 5.0 wireless M3 solution combines energy harvesting technology with our Lowest Power Radio and On-demand Wakeup technologies to deliver 10 to 100 times lower power than competitive solutions. Those power savings mean that savvy OEMs can design Bluetooth 5.0 products that readily sustain operation for the life of a device – without a battery or with a lifelong battery that automatically recharges for the life of the IoT device. Bluetooth 5.0 is continuing to gain steam as the connectivity standard of choice as it enables eBadges to connect to a large installed base, operates on lower power than prior specifications and offers range that's near to that of Wi-Fi®. When compared to previous generations of the specification, Bluetooth 5.0 has four times the range, two times the speed and eight times the bandwidth, making it ideal for a wide variety of eBadge applications.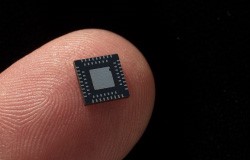 Atmosic's compact M3 solution which can be integrated into eBadge designs
Image credit - Atmosic
With the increased popularity of connected devices featuring displays, the need for enhanced functionality with extended battery life is a key concern for many product designers. The combination of E Ink's low-power display and Atmosic's low-power Bluetooth connectivity solution opens up new possibilities for the eBadge market, helping companies cut down on the cost and maintenance time of replacing batteries while also being more environmentally friendly.