Welcome back to Future Ink: a series on how E Ink technology pushes the boundaries between industries to put Creativity on Display.
As the Future of Retail emerges, traditional brick-and-mortar stores face a new challenge: adapt to meet the needs of the next generation of consumers and compete with e-commerce platforms or become a relic of the previous generation's consumption habits. The way we shop is changing.
Raise your hand if you have ever…
…searched online for coupons before walking up to the check out
…used your phone to compare competitor pricing while shopping in a store
…ordered something online and picked it up in store
These are all examples of how the online world of e-commerce is changing the physical world of retail.
Successful retailers have found ways to combine both an in-store and digital shopping experience.The experience of assessing choices in person can't be replaced with online, so physical stores have adapted to the change, offering services like curbside pickup and showcasing competitor pricing. E Ink enables physical stores to evolve digitally and meet the consumers' expectations.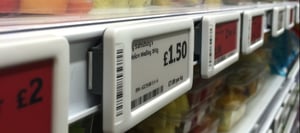 The next time you go to a big box retail store or a progressive grocery chain, you may notice tiny displays in place of the usual paper sticker price tag on the shelf. These are called Electronic Shelf Labels (ESLs), and many feature E Ink's Digital Paper which displays pricing and merchandise information – just like the paper tags, but with the digital benefits!
The Franchise
ESLs can be updated across an entire chain of locations dynamically. Imagine wanting to change the price of an item across 150 stores. Updating paper shelf labels is a long, manual, and not always successful process of informing individual locations that there's a price update, hoping that they see the request, and then someone on the ground has to physically change out the labels. With ESLs, that pricing can be changed with the click of a button. Dynamic pricing means efficiency, sustainability – no wasted printed labels! – and the ability to contend with competitor sales.
The Store
Speaking of competitors: ESLs can also be programmed to display competitor prices, highlighting when your prices are better than theirs. They can also display promotions, reviews from satisfied customers, product ingredients and information like source of origin and automated currency conversion.
The Customer
Each ESL is an individual opportunity to empower the shopper with the information that they need to be confident in their buying decisions – which they might otherwise have to go online to have answered. ESLs link the digital experience with the physical, creating the optimal shopping experience: unique, dynamic and designed around the customer's needs.
If you'd like to learn more about E Ink, ESLs and how digital paper will play in the Future of Retail check out our whitepaper, Digital Paper in Smart Retail.