Have you ever wondered what it is like to be a field applications engineer? In this week's Ask an Inker blog series, Vish Kulkarni takes us through a day in his life and sheds light on this integral role at E Ink.
Welcome, Vish! You've been with E Ink since 2010. Tell us about your background and how you landed at E Ink.
My background is in electrical engineering. Throughout the course of my career, I've worked in different roles such as applications engineer and field applications engineer. I've also had the opportunity to work at various technology companies in the semiconductor and consumer electronics space. I first heard about E Ink through a network connection. I'll be honest, at the time, I didn't really know much about E Ink. I had heard about the Amazon Kindle and how E Ink's technology was low power – and that was the extent of my knowledge of the company.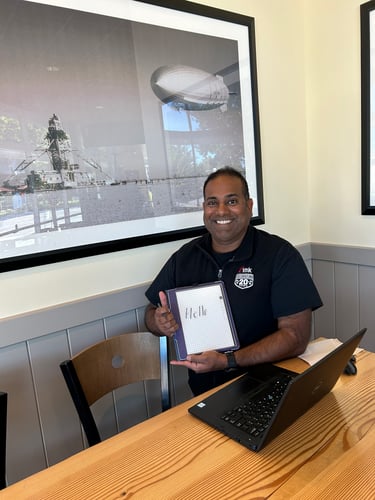 Vish showing off the Kindle Scribe before a busy day of customer meetings.
Credit: E Ink
At the time, E Ink was in a growth stage and they were hiring a customer-facing role with a lot of exciting projects lined up. I saw tremendous professional development opportunities in that role so I immediately applied. There was good camaraderie during the interview process and it was great getting to know everyone – another reason why I thought this role was a great fit for me.
As a field applications engineer, what does your role entail?
It's a mixed role consisting of technical support, sales, customer training, marketing, and business development. It's a customer-facing role so I spend a lot of time with customers explaining and demonstrating the technology. I'm based in the Bay Area and there are a lot of customer activity and business development opportunities locally.
For potential customers who are not too familiar with E Ink, it's also important to explain the technical details and be able to put it into layman's terms so they understand the benefits that ePaper technology can bring to the audiences or customers they want to serve. Most of my work has been in the consumer electronics space – and there are a lot of new efforts in ideating with customers about next generation concepts for various applications and industries, and thinking outside the box for new products that can enhance user experiences.
What has been a highlight of your career? What's your proudest moment at E Ink?
I can't simply just pick one! The most memorable moments came from the excitement with new project or product launches. And it's great to be able to show my friends and family what I've been working on and present them with the final product – and be able to share tips and tricks in using a newly launched device. The most recent Amazon Kindle Scribe was a great example. That is a 10.2-inch device and has note-taking (eNote) along with the traditional eReader capabilities.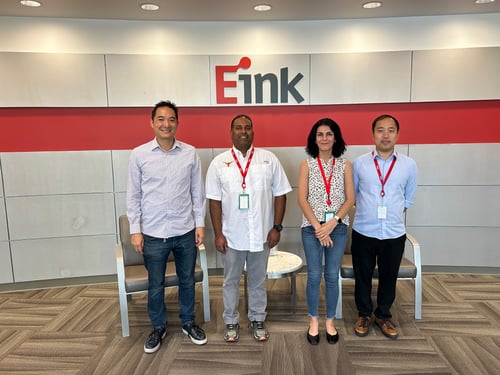 Vish with fellow E Ink team members from the E Ink California office.
Credit: E Ink
There had been other eNotes in the market before, but this was the first time Amazon launched a device with this feature. Consumers have been really impressed by its display performance and note-taking capabilities – even my kids are avid Kindle Scribe fans!
How has the company's growth over the years affected E Ink employees' day-to-day work?
We need a much more cohesive team to work on new projects with our customers, implement solutions, advance concepts and software based on their needs, and think about the user interface experience from their perspective. And with our focus on color, it's even more important for us to work effectively as a team towards shared goals – with customers' needs at the forefront.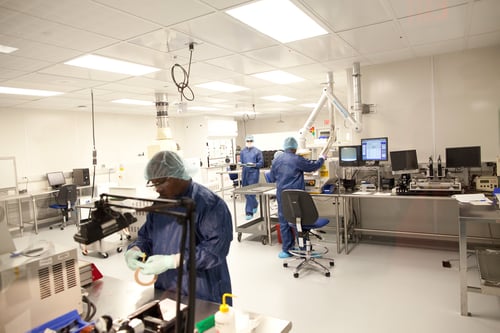 Engineers working at the E Ink lab in the Billerica building.
Credit: E Ink
What is a trend that you foresee will take off in 2024?
Color will present a lot of opportunities to the signage industry. Keep your eyes peeled – from convention centers and hotels to airports and medical facilities, sustainable color signage will be more prevalent and be able to serve the same purpose as LCD displays, but with much less carbon footprint.
It's not just the signage industry. Color opens up a lot of new market opportunities: think about the retail space with electronic shelf labels, or electronics accessories for consumer devices, or even at home we can hopefully begin to see E Ink color technology enhance our everyday lives. This could be seen in our home appliances, decorative spaces, entertainment electronic, and other commonly used home devices.
I'm interested to see where color will take us next!