For many, fall is a time for new activities and adventures abound! Summer may be winding down, but that does not mean plans are doing the same. From enjoying the change in seasons to planning a fall getaway, E Ink technology has you covered for your favorite activities all season long. Here's how.
Community Gatherings
Just in time for fall, our partner Soofa has expanded its presence into communities across the country. With their "Neighborhood News Feeds" and outdoor digital signage, Soofa uses E Ink to communicate with communities and share local information. Keep up with your local Neighborhood News Feed for fall events like apple picking, farmer markets, craft fairs, or even the location of the nearest pumpkin spice latte.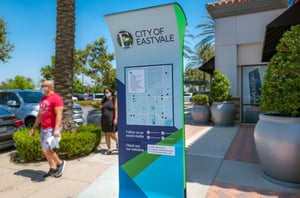 Image credit: Soofa
The kiosks deliver information and customized messages in real time to keep communities up to date all season long.
Fall Reading
The fall weather invites readers to grab a blanket, warm beverage and a good book. With E Ink-powered eReaders, readers have entire libraries at the touch of their fingertips. These devices are great for displaying materials in both indoor and outdoor environments, no matter where readers choose to cozy up.
It's also important to remember that school is back in full swing. As students are heads down in classes, eReaders and eNotes easily display class-reading materials and make taking notes a breeze.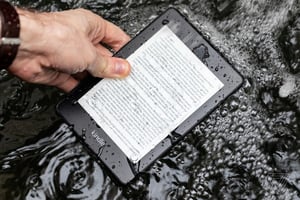 Image credit: The Verge
The Kindle Paperwhite leverages a larger 6.8-inch E Ink display that has more storage and lights that adjust based on the brightness of the environment. This means you can comfortably read no matter where you are comfortable.
Transportation
Whether you are taking a road trip or going abroad, autumn's crisp air and bright colors inspire travelers to embrace the outdoors and explore new cities. For the travelers drawn to Boston's quaint charm, fall foliage and deep history, E Ink is helping visitors navigate through new surroundings with Visionect ePaper transport displays. Used by the MBTA, Boston's local transit authority, the sustainable ePaper displays serve as a wayfinding tool to provide passengers with the latest service information and directions.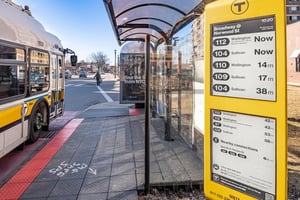 Image credit: E Ink
eReaders are also the perfect accessory to use while in transit. They are compact, portable, lightweight and give you access to complete libraries of content anytime. No matter your mood, having an eLibrary with you on the go allows you to pick a genre that best suits your mood. If you are not in the mood for a book, why not read an eMagazine to stay up to date on the latest sports happenings.
As you enjoy every minute of the fall season, make sure you take advantage of E Ink technology. With back-to-school, the first day of fall, Halloween, and Thanksgiving, this time of year has plenty to anticipate for everyone.