If exercise is treating your body like a temple, reading is the equivalent for your mind. But reading on digital paper like eReaders offers additional benefits beyond those of traditional books or LCD eReaders, reducing the harmful effects of blue light, accommodating those with visual or learning disabilities and offering a complete dictionary at the touch of a button.
Join us as we explore these benefits further.
Eye Health
Studies have shown that prolonged use of LCD displays can negatively impact eye health, causing unnecessary eye fatigue, headaches, sore and burning eyes, and blurred vision. Further strain generally occurs when users try to use these devices outside, where the screen is disrupted by the sun's glare. This brightness forces the reader's brain to overcompensate.
E Ink's displays don't use a backlight but instead are reflective, using ambient light from the surrounding environment. This ambient light is reflected from the surface of the display back to the user's eyes, eliminating the need to project light towards the eyes directly, which can cause harm. Due to the reflective nature of these devices, the screen appears brighter when used in bright environments like the outdoors. With this, users often report reduced eye fatigue when reading on an eReader.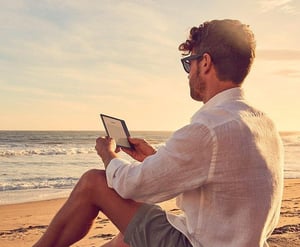 Best for reading in bright sunlight
For dedicated readers, this technology is even more integral. The longer a user spends staring at a screen, the higher the risk of eye strain. With devices that use E Ink's digital paper, this is reduced further as the non-backlit device filters blue light more effectively, as well.
Accommodations for Visual Needs
For those that have visual impairments, reading can be stressful without the right glasses or magnifying equipment. eReaders change the game for these users, allowing them to change the font size to meet their unique needs. This level of accessibility is integral to encourage everyone to create a habit as important as reading.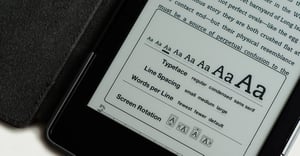 Source: BookBabyBlog
What's more, for avid readers who are always on-the-go, they no longer need to ensure they have their glasses or reading materials at the ready, or carry around a heavy bag full of large print books. E Ink-powered eReaders are slim, lightweight and boast extensive battery life.
Enhanced Learning
For many, reading a new book means running into some new vocabulary you aren't familiar with. When doing so, it's important to research the word's definition to make sense of the narrative, and to add a new word to your repertoire. But when reading a traditional, physical book, this can be challenging, requiring another device or dictionary.
On E Ink eReaders, researching the meaning of an unfamiliar word is as easy as pressing a button. Being connected to the internet right from the device makes this connection as simple as possible, and reduces time spent, therefore increasing the ease with which a book can be read and new words learned.
Reading is beneficial in so many ways, introducing us to new perspectives, narratives and even words. But prolonged reading on an LCD screen has negative impacts, causing eye fatigue, frustration and strain for readers. Make a positive choice for your eye health and choose digital paper.