In the healthcare industry, paper has long been a staple for clinicians, hospital staff and medical personnel. However, there are some challenges with paper medical records. Documentation errors, time-consuming processes and a lack of audit trails are a few key pain points for medical staff.
With new technologies and the acceleration of digital transformation across the healthcare sector, let's take a look at how digital solutions like mobile devices and automation are changing healthcare for both patients and providers.
Digital Paper Tablets and Notebooks
Digital paper and electronic lab notebooks (ELN) are growing in popularity. In fact, the ELN market is projected to reach over $787.7 million by 2029.
With their flexibility and scalability, digital paper notebooks such as E Ink's Digital Paper Tablet Solution provide many advantages over their paper counterparts. The solution allows medical personnel to simplify the data collection process. It also reduces errors during data transfers to improve productivity for healthcare staff.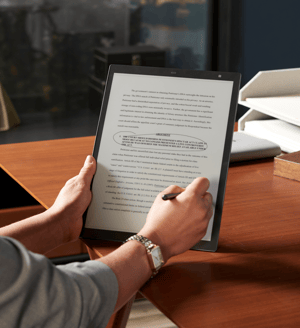 Image credit: E Ink
What's more, tablets are a critical element of an Electronic Health Record (EHR) system. Collectively, they provide hospital staff a comprehensive view of a patient's medical history, and laboratory and test results. Healthcare providers can then use this data to make informed decisions about a patient's care.
Connected Digital Signage
Children. Families. Expectant parents. New staff. A hospital welcomes many visitors every day. Each of them is going through a significant moment in their life.
The floorplans of many facilities are complex and often intimidating to visitors. This creates wayfinding challenges when they are already anxious and distracted. A digital signage solution puts this worry to rest, guiding visitors where they need to be.
Digital signage solutions can be found beyond the hallways of a hospital.
In a patient's room, digital boards show detailed information related to the medicine and treatment the patient is receiving. They are also connected to a facility's EHR system so updates can be made in real time.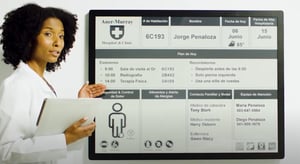 Image credit: E Ink
Unlike LCD-powered information boards, ePaper digital solutions do not emit any light, so patients can focus on their care, without getting disturbed by emissive light while they rest or sleep.
Reducing Carbon Footprint With ePaper Solutions
Healthcare systems account for over 4% of global CO2 emissions. With climate change at the forefront of ongoing challenges globally, it has become clear that incorporating sustainable technology solutions is the way forward for businesses.
Low-power ePaper solutions enable the healthcare industry to digitally transform, making healthcare operations more modern, sustainable, and the patient experience more streamlined and efficient.