It may still feel like summer in most parts of the U.S., but with pumpkin spice getting back on coffee shop menus and fall decor filling up shopping aisles, it's clear that fall is officially here!
This week going into early October, fall's colors will begin to show across New England. What's a better spot to see the beautiful fall foliage than Boston: a great destination to experience both nature and city?
Here is our guide to enjoying Boston in the fall – and spotting some E Ink along the way.
Boston Public Garden / Boston Common
Have a fall picnic in Boston Common. Oak, chestnut, maple and beech trees put on a show this time of the year with their changing colors, providing beautiful accents for the majestic State House in the background.
Across from Boston Common is the Public Garden, which is a perfect spot for a fall morning walk or after-work stroll. Remember to also check out Boston Public Market for apple cider donuts and other fall snacks.
Image credit: Shutterstock
Boston Common, or what we call "the Common," is conveniently located in the heart of the city, and the Massachusetts Bay Transportation Authority (MBTA) allows you to easily travel there by train.
Look out for the transportation signage on the platform. It can give you visibility into route and schedule updates in real time. If you look closely enough, you'll see that these displays are powered by E Ink's technology.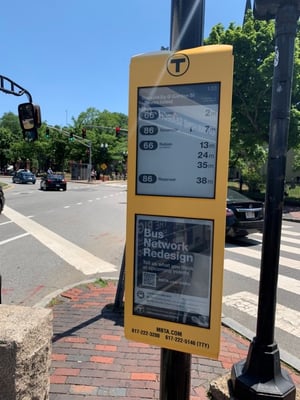 Image credit: E Ink
Faneuil Hall
Boston is one of the oldest cities in the country, offering a mix of colonial charm and urban sophistication. In addition to the nature attractions at the Common and along the Charles River, tourists can also enjoy a taste of fall at Faneuil Hall – a market square that is just a short walk away from the Common.
Tourists can enjoy fall-themed activities such as pumpkin decorating and face painting at the Quincy Market, and explore historic taverns and the Rose Kennedy Greenway nearby.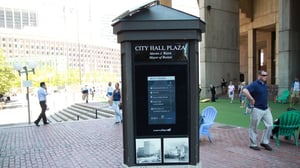 Image credit: E Ink
When getting around a busy urban area like Faneuil Hall, wayfinding signage can be of great assistance to out-of-towners.
It communicates the right information clearly and succinctly, helping tourists better navigate their destinations and connect with the people and resources they need.
Wayfinding signage is also a path into the smart cities of the future. It's highly digital and energy efficient. It's also seamlessly integrated into modern ecosystems, and it makes people feel more engaged and connected to their surroundings.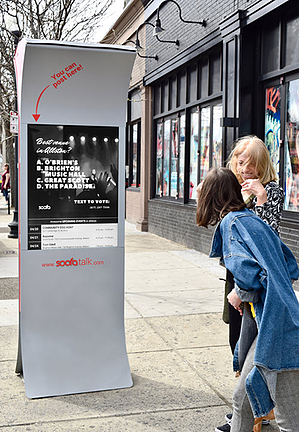 Image credit: E Ink
As you travel around Boston this fall, keep an eye out for E Ink-powered signage across the city – you'll be amazed to see how one of America's most historic cities is modernizing through E Ink technology.