This year, Touch Taiwan was held from April 21 – April 23 at the Taipei Nangang Exhibition Center, in Taipei City, Taiwan. Touch Taiwan is the world's leading exhibition for the display industry supply chain, with a strong connection to Taiwan's high-tech industries and over 30,000 domestic and international attendees.
E Ink's focus at this year's event was color and flexible ePaper technology, highlighting use in IoT applications. Additionally, three different color ePaper technologies were debuted.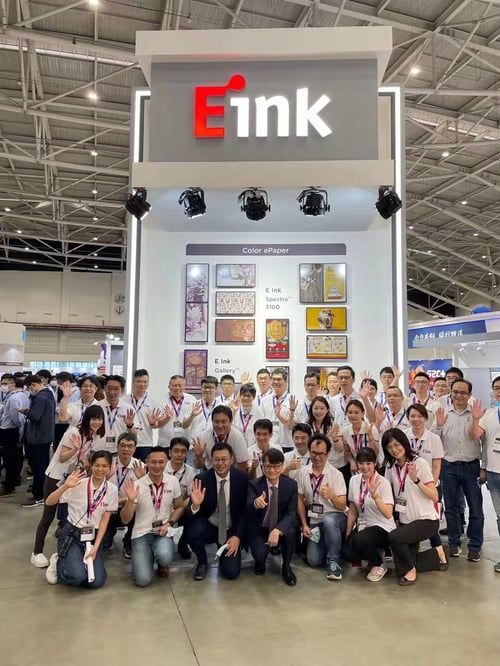 Here a some of the products we highlighted this year!
E Ink Gallery™ - Advanced Color ePaper (ACeP): E Ink Gallery is based on E Ink ACeP™ full color ePaper display technology. Four types of color electronic ink particles, including cyan, magenta, yellow, and white, are used to achieve a full color gamut display by dynamically combining and mixing the particles through voltage control. The paper-like texture of E Ink Gallery offers the visual effect of printed posters, making it suitable for public information display, commercial signage, and digital display carriers for art galleries and museums. The 13.3 inch and 25.3 inch E Ink Gallery™ products were on display, and the 13.3 inch color ePaper signage system was introduced into Taoyuan International Airport Terminal 2 for use by the taxi fleet to promote pandemic prevention information.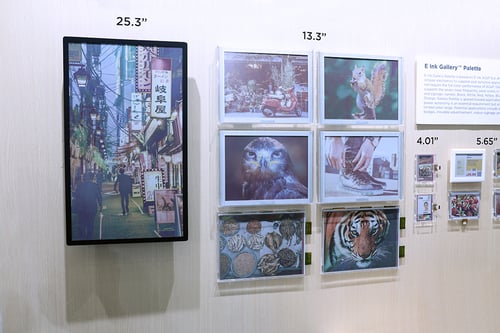 E Ink Spectra™ 3100 four-color ePaper: E Ink's newest generation of Spectra utilizes four color particles: black, white, red, and yellow. Spectra 3100 features high resolution and high saturation color which displays rich content. It can be used in Electronic Shelf Labels or promotional signage. The flashing when changing the image brings eye-catching effects to retailers during event promotion.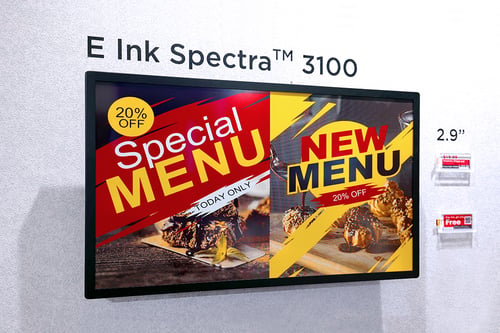 E Ink Kaleido™ Plus - Print-Color ePaper: Using Color Filter technology and the RGB color mixing principle, ePaper is converted from black and white into 4096 rich colors. E Ink Kaleido Plus features an improved front light from the prior generation and reduces light scattering. When the front light is turned on, E Ink Kaleido Plus creates saturated images with three times the color gamut over the previous generation, with warmer colors. At the same time, the new generation of Print Color ePaper has the capability to play animations and videos, with E Ink's eNote products providing new options to educational and professional devices. A full range of sizes was on display, including the 6 inch, 7 inch, 7.8 inch, 8 inch, 10.3 inch, 11.3 inch, and 13.3 inch products.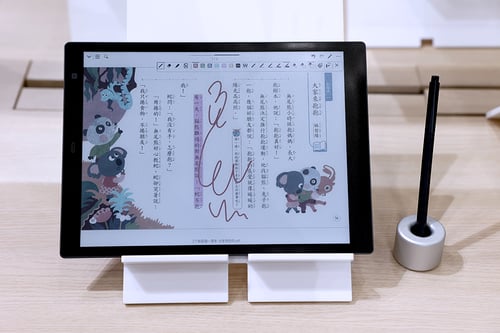 Cutting-edge ePaper technology: foldable color ePaper display and rollable ePaper display: The foldable color ePaper display developed with E Ink Kaleido™ technology was publicly exhibited for the first time at Touch Taiwan. This 10.3 inch foldable color ePaper integrated new materials, stacking design, and print-color technology to develop a fast-refreshing foldable color ePaper. The display also integrated anti-glare film and embedded front light elements for reading under strong light or insufficient light environments. The foldable feature allows applications of color ePaper to be portable and suitable for digital reading and smart education.
In addition, the 10.3 inch rollable ePaper display integrated flexible TFT substrates, new E Ink materials, new module materials, and new manufacturing processes to achieve 50,000 rolls with 6mm rolling radius. This thin and lightweight display highlighted the potential for the next generation flexible ePaper technology.
E Ink highlighted ecosystem partners to demonstrate the diverse IoT applications suitable for ePaper Reading and Writing: The E Ink Kaleido Plus 10.3 inch color eNote solution exhibit was developed and designed by Linfiny. This exhibit highlighted E Ink's Print Color solutions for digital textbooks and color eBook market. E Ink also exhibited the latest color eReader and eNote launched by different customers, including iFlytek, iReader, Onyx, Pocket Book, and Readmoo.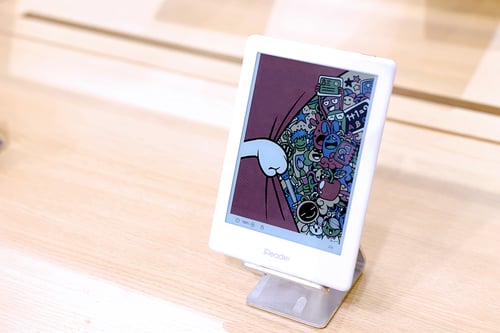 Smart Retail: E Ink Spectra™ 3100 four-color ePaper, E Ink's newest ink technology for Electronic Shelf Labels, was a key feature of the show. The exhibition was prepared with the cooperation of our two ecosystem partners, SES-Imagotag and Netronix Inc. Their smart retail solutions enable real-time system-wide price changes that require no manpower to update the price tags and present price information clearly. It can help store staff work more efficiently and allow them to spend time optimizing the quality of customer service instead of replacing paper labels.
Smart Transportation: E Ink's ePaper Signage is ideal for public information and transportation signage and advertising. Due to ePaper's low power consumption, these signs can be driven by solar cells, and the reflective nature of the technology gives a wide range of visibility in direct sunlight. At Touch Taiwan we highlighted the 5.65 inch E Ink Gallery™ Palette color advertising handle that can be used in train cars, as well as 13.3 inch, 25.3 inch, and 28 inch E Ink Gallery full color ePaper advertising signage.
Smart Factory: E Ink and Advantech jointly showcased an ePaper smart factory solution. Advantech launched their Smart Factory Solution Suites based on Industry 4.0, which combines ePaper displays, RFID, and DeviceOn/ePaper management software. The system seamlessly integrates manufacturing system ERP and inventory management system WMS to achieve real-time display of production and inventory information. This integrated system improves the accuracy of work-in-process and inventory management, which also helps manufacturers significantly reduce material and labor costs, reduce downtime, effectively improve order delivery, and helps companies to achieve smart manufacturing and move towards Industry 4.0 benchmarks.
Smart Healthcare: E Ink and imedtac Co. Ltd., jointly exhibited smart healthcare products that use ePaper displays, including a 9.7 inch bedside card, a 13.3 inch ward room card, and a 42 inch healthcare information board. Features such as continuous display even without power are integrated with smart healthcare system solutions to help medical staff instantly and conveniently update medical orders, medication and care points, patient status, health education, and other information from the back-end system, reducing manual replacement of paper cards, handwriting errors and the administrative workload of medical staff. Also, the reflective ePaper relies on ambient light sources and does not emit light, reducing disruptions to patients' sleep and helping hospitals create a comfortable resting environment.
Smart Banking: As environmental concerns grow, many companies and institutions have begun to adopt green and sustainable operation strategies. E Ink and Broton Technology have worked together to create a paperless banking system using eNotes to help banks reduce the use of paper forms for opening an account or for deposit and remittance transactions at the counter. The paperless digital financial experience can help banks protect customers' personal information with digital documents, reduce the use of paper and improve the efficiency of internal auditing.
Smart Logistics: E Ink's unique bi-stability, where an image is maintained indefinitely without requiring power, allows companies the ability to replace printed paper labels. E Ink has collaborated with smart logistics ecosystem partners to showcase smart parcel boxes that integrate the benefits of Reuse and Recycle, including The Box from LivingPackets and 2.9 inch logistics labels for returnable containers. The combination of smart logistics platforms and IoT solutions will significantly reduce shipping containers through reuse, and streamline logistics solutions.
Smart Office and Meeting:
E Ink has cooperated with many ecosystem partners to create paperless applications suitable for use in offices and conference centers, including digital nameplates, table cards, and agenda cards. These products include a 7.3 inch four-color ePaper desktop billboard, a 7.5 inch black, white and red three-color table card, and a 5.65 inch color ePaper table card.
ePaper displays will only consume a small amount of electricity when updating information and can display information indefinitely, making ePaper displays a smart and eco-friendly solution. E Ink and IntelliCentrics exhibited a 4.01 inch full color ePaper ID badge for the first time. By integrating the ePaper ID badge and IntelliCentrics' technology service platform, visitor management can be effectively managed, along with COVID related communications for environmental and health safety in corporations and institutions.
"E Ink is committed to the R&D of related technologies of ePaper films and materials, and the color, flexible ePaper that the ePaper ecosystem needs. With continuous efforts in the R&D of color ePaper, E Ink has launched three complete color ePaper technologies that are suitable for different smart fields. Meanwhile, E Ink has also actively engaged in the ePaper ecosystem. By utilizing ePaper's features including the paper-like texture, ultra-low power consumption, eye-friendly for long hours of reading, wide viewing angle, and clear visibility under sunlight, E Ink has been continuously developing smart and eco-friendly diverse applications of ePaper products with our partners in smart transportation, smart healthcare, smart education, smart retail, and smart logistics to help build a vision of sustainable smart cities," said the CEO of E Ink, Johnson Lee.
You can learn more about the color technologies shown at Touch Taiwan through this video:
We look forward to seeing everyone at Touch Taiwan in 2022!