At the end of 2021, E Ink announced their pledge to achieve Net Zero Carbon Emissions by 2040. E Ink has been working for several years towards zero carbon emissions to help mitigate the impact of climate change and to promote sustainable technologies and has a three-phased goal to achieve this goal.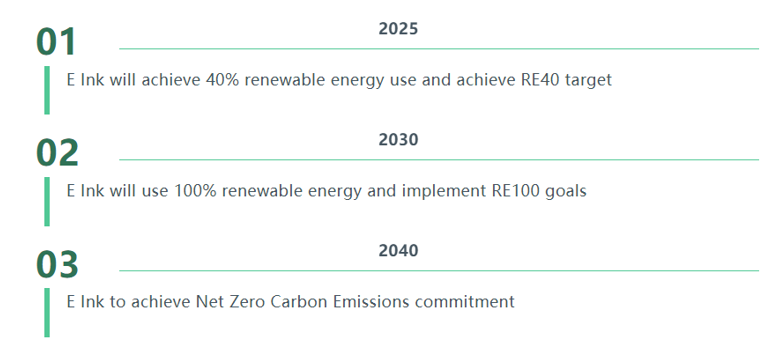 According to the Energy Management Efficiency IT Process (Energy Management Efficiency IT Process) of the FTSE Russell Green Revenue 2.0 Data Model, 99.93% of E Ink's 2020 operating income is green revenue (Green Revenue), which has a positive impact on the environment, further demonstrating the environmental benefits of electronic paper products.
In order to achieve the net zero carbon emission target, E Ink is not only implementing measures in technology and products improvements, but also is conducting carbon emission inventories and evaluating the greenhouse gas generated by global operations and manufacturing sites. Indirect carbon emissions due to the use of energy in operations and manufacturing account for a significant proportion of E Ink's overall carbon emissions; therefore, the adoption of renewable energy will be at the heart of achieving net zero carbon emissions. By increasing the proportion of renewable energy use year by year, it can help companies improve the efficiency of energy use, reduce overall energy consumption, and reduce environmental resource consumption from product development, manufacturing, and business operations.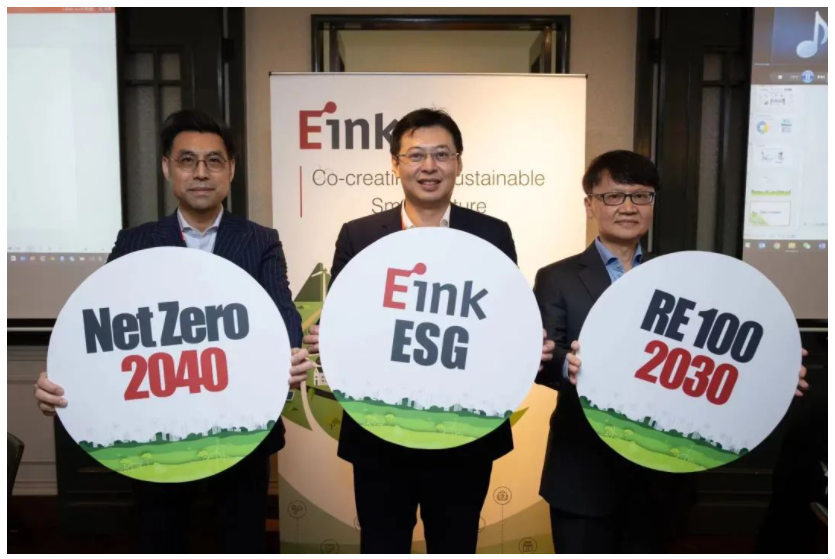 In addition to initiating net-zero carbon emissions initiatives within the company and the ePaper ecosystem, E Ink also actively joins advocacy organizations dedicated to achieving environmental sustainability.
In October 2021, E Ink became a supporter of the Task Force on Climate-Related Financial Disclosures (TCFD Supporter), and will continue to follow the TCFD framework to identify climate change risks and opportunities. In addition, E Ink will actively participate in RE100, SBTi and related advocacy organizations.
E Ink will continue to update our progress towards these important milestones.