At E Ink, we work hard to strengthen communities and simplify everyday life through installations of our technology in collaboration with our partners like Papercast, Connectpoint, and Soofa among others. This year, digital signage has become more important than ever before, allowing cities, towns, governments and transit agencies to share real-time, updated information to residents and commuters, saving energy and making remote operation possible.
See how our partners are making a difference in cities across the world.
Papercast
In recent months, Papercast has grown internationally, with new installations in the UK, France, Poland and even Qatar, all to support public transit in the new normal.
In the UK, Buckinghamshire and Cambridgeshire are the first County Councils in the area to install Papercast's solar powered e-paper displays to provide bus passengers with real-time information. In France, the city of Chambery is continuing its earlier installation of Papercast solar powered e-paper passenger information displays, further simplifying the transit experience with real-time updates via SERFIM T.I.C, Papercast's partner in France.

In Poznan, Poland, a trial of Papercast electronic paper technology kicked off this fall, and will continue through the end of the year, as public transport users from the Pl. Spring of Nations station will engage with the new bus stop displays to gauge passenger reaction and compare functionality with LED Displays. It is expected that, if successful, the technology will be implemented across the city's transit network.
Further expanding the reach of its technologies, Papercast's new 23" bus stop displays were installed on existing bus stop poles in the city of Doha, the capital of Qatar. Equipped with E Ink technology, Papercast ePaper bus stop displays are now in place around the world, and Doha is just the latest installation in the Middle East, following in the footsteps of Kuwait, Dubai and Abu Dhabi.
Connectpoint
Connectpoint's Digital Bus Stops® are located throughout the United States, having been deployed by 24 transit agencies in 14 states. Their Digital Bus Stop is offered in 4 different display sizes—10-inch, 13-inch, 32-inch, and 42-inch—to suit the needs of any transit agency whether it be installed at a bus stop, rail platform, or in a transit center.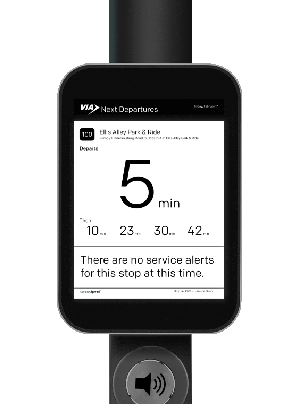 These solar-powered, cloud-based digital e-Ink displays give riders real time arrival and departure information, as well as service alerts. In 2021, TriMet and Connectpoint teamed up to deploy hundreds of Digital Bus Stops across Portland's 85 heavily trafficked bus lines and along TriMet's MAX Light Rail network that extends across 60 miles. Collectively, these products will be providing TriMet's 1.5 million annual riders with accurate and updated passenger information. Connectpoint is also working with King County Metro in Seattle, starting in 2021 as part of a 5-year contract to replace their current static signage with Connectpoint's ePaper displays. These displays are replacing the current signage across 215 of King County's bus lines, as well as their new high speed BRT system called RapidRide. TriMet and King County join Washington DC Metro, Pittsburgh's Port Authority, Detroit's SMART, Chicago's PACE, San Antonio's VIA, and many others in deploying Connectpoint's e-Ink solution.
Soofa
Soofa has been installed across the Boston and Atlanta areas in recent months for a variety of purposes.
Revere, Mass., located just outside Boston, is home to 20,000 residents born outside of the United States, and as such, its culture is a blend of nationalities, ethnicities, and languages. With this, the city has utilized Soofa digital signage to share important public health reminders, city updates and community resources in both English and Spanish. Revere has also been using the signage to provide pedestrians with a QR code for easy access to such information.
Medford, Mass. – also a short distance from the city of Boston – has leveraged Soofa's digital signage for public communications and community engagement in its five business districts, leading to increased citizen engagement and accessible city communications. With these installations, Medford became the tenth city in the Greater Boston area to install Soofa Signs, again utilizing the technology to share information in multiple languages for increased accessibility.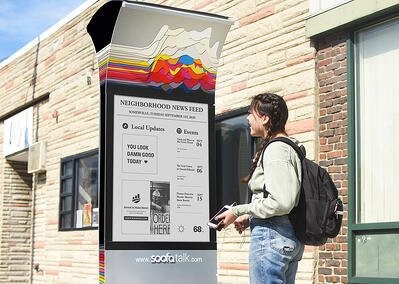 What's more, Soofa signs were even used ahead of the 2020 presidential election to remind citizens to vote, displaying important information relevant in the Greater Boston and Atlanta areas. As COVID-19 changed traditional voting procedures and protocols, this information was especially important to share, to remind everyone of registration deadlines and early voting dates.
Our partners around the country and the world are making a difference with community installations of all kinds, to streamline public transit, share public health and safety information and promote democracy. Stay tuned as we provide more updates on these collaborations in the coming months!