In the logistics space, efficiency and cost savings are key as companies work to optimize processes and operations to create and distribute quality products to meet customers' needs and expectations quickly and effectively. The right technologies can catalyze this production, eliminating manual work in the process, saving money and time, and significantly reducing human error. From packaging to smart badges, there is a multitude of unique, innovative products and applications to explore.
Let's dive in.
Smart Packaging
During storage and usage, it is critical to keep track of what a package is exposed to, from temperature to tracking location and timing. E Ink technology eases these concerns with products that leverage ePaper displays into packaging with built-in temperature sensors, timer and activation triggers, and modules to record and store a log of all of this critical information.
Leveraging E Ink technology, our partner LivingPackets developed THE BOX, which is an intelligent, reusable container aimed at reducing waste from packaging, ultimately ensuring security and increasing convenience for companies and their customers. Making sending and receiving packages easier than ever before, THE BOX has a configurable interior instead of bubble wrap or packing material to reduce waste. THE BOX utilizes an E Ink display as an electronic address label that can be easily updated whenever, wherever. What's more, sensors inside THE BOX are always measuring temperature, humidity and shocks, producing data accessible at all times via its built-in Internet connection and app.
The Faubel Med Label is another great example of smart packaging that leverages E Ink technology. Combining an ePaper display and label integrated with RFID technology, pharmaceutical companies can update their packaging whenever they need to. The segmented bi-stable E Ink display can even display expiration warnings on sealed kits, offering an alternative to traditional packaging, saving time, and providing key data on products and their safety levels. When stability data changes, these labels offer significant savings for clinical trials, in terms of both time and cost management.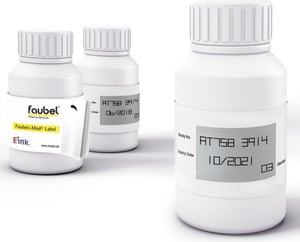 Smart Credentialing
Ever had to use an ID badge to access an office building? Or attended a conference and needed the same? If so, it's not hard to see the benefits that eBadges, or smart credentials, can offer. For any spaces or events with restricted access, requiring identification makes perfect sense. But what doesn't make sense is that way that this has always been handled, often wasting time, energy and resources. Smart eBadges are a significant technological breakthrough leveraging E Ink Digital Paper technology to make identification easier than ever before.
With the ability to last years on just a small coin cell, eBadges introduced by E Ink in conjunction with Atmosic offer unparalleled convenience and security to users and companies that require them, as opposed to traditional paper ID badges. They are also tamper-proof, further enhancing the security of personal information stored inside. These eBadges feature a 2.9 or 3.7-inch black and white E Ink display or 4.1-inch E Ink Gallery Palette™ color display. They utilize Atmosic's M series extreme low-power Bluetooth LE platform, which offers an unprecedented battery life, and can be used in landscape or portrait mode. These smart eBadges can provide visual updates including a photo, location information, alert messages, and text messages and, by using energy harvesting, can have virtually unlimited battery life.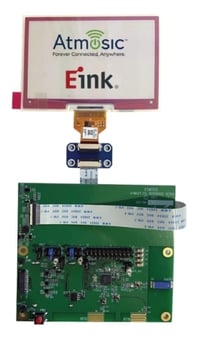 Courtesy of Atmosic
A convenient and reusable digital ID, users can avoid having to have a paper ID printed for them upon arrival, and badges are thin and lightweight with crisp imagery. When visitors leave, their eBadge is placed in a dock where it charges overnight, eliminating waste in the identification process from end to end. And as we continue to endure an ongoing global pandemic, eBadges eliminate several steps in the identification process and reduce human-to-human contact, ultimately protecting the health and safety of those who use them.
We are hosting a webinar about eBadges Wednesday, April 28, 2021 at 1:00 PM Eastern. Join us for a comprehensive panel discussion with E Ink partners Atmosic and Alpha ID.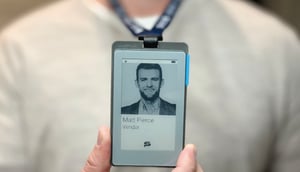 Courtesy of SafePass
While the logistics industry is ever-changing, the integration of new technology to better processes and operations will always be a good choice. Stay tuned for further updates on the industry from the E Ink team!