For many, the phrase "E Ink" conjures visions of eReaders and eNote devices, like the Kindle, Nook or reMarkable. But what many don't realize is that E Ink technology is used today in a wide variety of industries, powering education, mobile technology, retail, transportation, industrial, architecture and even healthcare. All industries are striving to digitize, to level up their work and provide their customers, patients and patrons the best experience possible, no matter what. Hospitals are no different, and technology is critical for enhancing communications, ensuring information security and improving patient comfort and health.
Here are a few ways our low-power, digital paper technology is being used in the healthcare industry.
In-Patient Experiences
When spending time in the hospital or other in-patient care facility, anything that can be done to make the experience more comfortable and less confusing is critical. Digital patient communication signage is a great tool to ensure that the patient, their caregivers and all medical personnel are on the same page with real-time, up-to-date information on their condition. E Ink digital paper makes this communication seamless and organic: because the display is paper like and doesn't emit light, it allows for uninterrupted rest.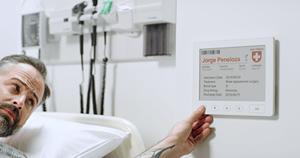 Patient Care Sign. Image credit: E Ink
Also critical in healthcare settings is digital signage outside of the patient room, to keep doctors and visitors abreast of the patient's condition before even entering the room. Patient communication boards, like the one pictured below, connect to the facility's own information systems so updates can be pushed in real-time without disturbing the patient.
These devices are intended as a communication avenue between the patient, the care team and family and friends – essentially anyone that may need information about the patient and his or her status. Displaying information around discharge, schedules, medicine and treatment, this form of digital signage is critical to ensuring the highest quality of care possible.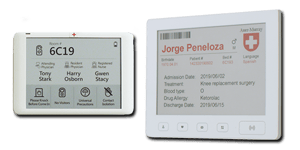 Patient Room Door Sign and Room Card. Image credit: E Ink
Medication Management
Outside of the hospital setting, technology still impacts our personal care and health maintenance, and medication management remains a critical issue for patients, costing the healthcare system $290 billion a year in the U.S. To combat this, we worked alongside LTS to create a Smart Patch prototype, to improve medical management.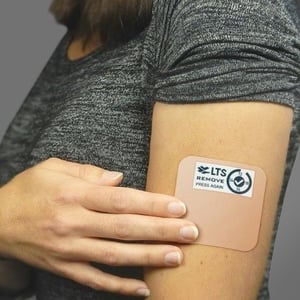 Smart Patch - Image credit: LTS
Known as a transdermal therapeutic system, this wearable patch delivers medication to patients in a comfortable manner, using a flexible E Ink display to share critical information about performance with the wearer directly. The unique construction of this display never requires the patient to recharge the battery, and provides messages to indicate when it's properly applied to the skin, a countdown until the next dose, and a reminder to remove and replace the patch when necessary.
Glucose Meters
Yet another implementation of E Ink technology for patient care are glucose meters, used by individuals with diabetes. For these individuals, frequent blood sugar monitoring is critical to manage the condition, to recognize patterns where dangerous spikes or crashes in blood sugar levels occur, and to see how glucose levels respond after exercise or stress. These devices are also important for monitor the impacts of medications, therapies and overall treatments on the individuals that use them.
Glucose meters need to be powerful enough to take readings of the blood while also storing and tracking readings on a regular basis to detect any issues that may arise. On top of this, some diabetics find their vision to suffer as a result of the condition, making it hard to read traditional screens or devices, like other, non E Ink-powered glucose meters.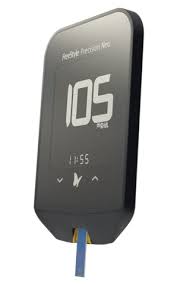 FreeStyle Precision Neo Blood Glucose Monitoring System


The FreeStyle Precision Neo Blood Glucose Monitoring System boasts a large 2.3" high-contrast segmented ePaper display, making it easy to read at an angle, without suffering degradation in sunlight. It's lightweight, doesn't need to be charged and comes in a non-glass construction, making it a durable device to use on the go.
So whether in a hospital or in-patient care facility, at home managing medication intake or a chronic illness, E Ink technology can help make the experience simpler and more streamlined with digital displays and ePaper technology. For more on our involvement in the healthcare industry, check out our website.