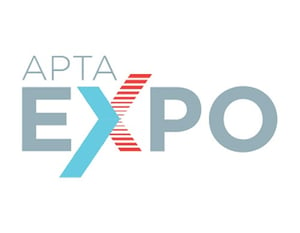 APTA EXPO is back after four long years, and we are excited to exhibit at the show to share the latest E Ink innovations and reconnect with the public transportation industry.
From November 8-10, you'll find our E Ink solutions on display, showcasing why solar-powered, eco-friendly digital paper is impeccably well suited for public transportation with their ease of installation, outdoor readability and rugged features.
Check out our partners' booths showcasing real world applications of digital paper technology. Here's a sneak peek at this year's show!
Powering the Passenger Experience With Digital Paper Technology
Swing by booth #2547 and check out the latest applications and products of Papercast!
Powered by E Ink technology, Papercast's digital signage keeps passengers updated on the latest departure and arrival information at bus stops, airports, rail stations, etc., providing real-time and sustainable mobility services to the public.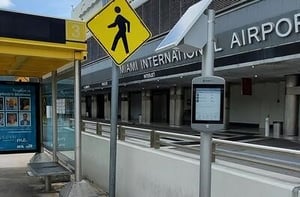 Credit: Papercast
Building Smart Cities
Digital paper technology can also be used in developing wayfinding signs. Wayfinding is more than making sure people don't get lost – it's also an opportunity to connect and interact with visitors.
Our partner GDS pairs digital paper with kiosks to build a smart city ecosystem at cities like Boston. Check out their solutions at booth #1915!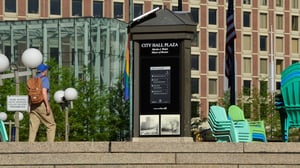 Credit: GDS
Real-Time Updates in Times of a Crisis
Make sure to stop by our partner Luminator Technology Group's booth #1741!
In times of a crisis, Luminator Technology Group's smart technology in combination with our digital paper technology provides updated safety policies to passengers. This helps effectively communicate arrival information and shifting schedules at bus stops, park and rides, light rail stations and remote stops.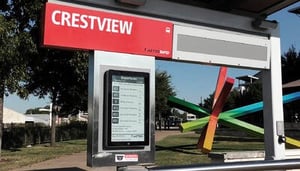 Credit: Luminator Technology Group
We can't wait to see you at APTA this year! Register here if you haven't already.