Consumer devices such as phones, tablets, laptops; and digital displays such as bright advertising boards and outdoor signage have become an integral part of our lives, and they are growing in popularity. However, there are concerns regarding their impact on health, energy consumption, and overall sustainability.
Tim O'Malley, AVP for the US Regional Business Unit at E Ink, joins this week's Ask an Inker blog series to discuss the benefits of ePaper displays and how they power a more sustainable future.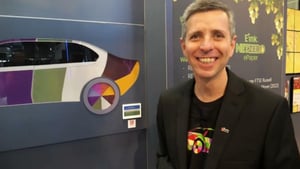 Tim at Display Week 2023 in Los Angeles, California, touring attendees around the E Ink booth.
Credit: Charbax YouTube
Tell us, Tim, in the context of digital signage, what are some examples of ePaper applications?
To answer this question, we have to first talk about the main characteristics of ePaper. It's paper-like and reflective. It's not creating light but reflecting the light around it.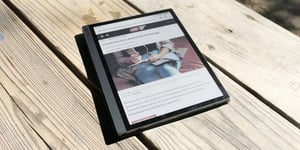 Paper-like experiences created by E Ink ePaper technology.
Credit: MakeUseOf
Secondly, it's low power – it does not use any power when the image or text on the display is not changing. This significantly reduces the energy consumption of ePaper displays.
At E Ink, we want to look at applications that have been using paper traditionally, and improve that experience, create new functionality, and push for a more sustainable approach to using displays. So, a few industries ePaper displays are prevalent are retail, transportation, and healthcare.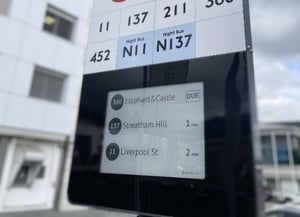 Real-time transit information displays leveraging E Ink ePaper technology.
Credit: Papercast
You talked about sustainability, and it's a big issue globally. How do Europe and North America compare when it comes to energy savings and sustainability?
Europe leads North America when it comes to implementing sustainability and CO2 reduction measures. There was a regulation passed in Germany last year, limiting the amount of display time to six hours a day for non-public information to save energy.
Even if you look at the retail market, the trend to use ePaper displays migrated from Europe, then to Asia, and from Asia over to North America.
A lot of companies have begun to realize the benefits of ePaper and they are catching up. In addition to energy savings, ePaper also improves efficiency and productivity. In retail, for example, ePaper enables dynamic pricing where prices can be easily adjusted without the need for manual labor. This allows companies to easily update displays and manage inventory, resulting in cost savings and increased bottom line. Earlier this year, Walmart announced that they will outfit over 500 store locations in the U.S. with electronic shelf labels.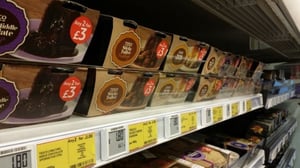 Electronic shelf labels supported by low power ePaper technology.
Credit: Good eReader
There are numerous possibilities for creating sustainable long-term digital displays. It's important to consider both the paper side (replacing paper displays with ePaper) and the digital side (utilizing energy-efficient digital displays).
What about digital displays' impact on our health, could you talk a little bit more about that?
As the world becomes increasingly more digital, there is concern about long-term effects of exposure to blue light from digital devices. It not only causes eye strain, but it also disrupts sleep patterns and our overall health. This is especially true when it comes to too much screen time. In fact, the average adult spends about 13 hours a day behind a screen.
We did a study with Harvard School of Public Health and it found that ePaper displays featuring E Ink front light are up to three times healthier than LCD screens, creating much less stress on our eyes and retinal cells. ePaper devices are a healthier alternative to bright, disruptive LCD screens – probably the screen you're using right now to read this article.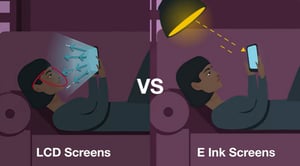 Emissive LCD displays vs. reflective E Ink displays.
Credit: E Ink
Check out Tim's recent interviews here or here for his additional insights on ePaper technology and how it powers a more sustainable future of the signage industry.