As students head back to school this year, having the right technologies in place is more important than ever before, to ensure accessibility, collaboration and to reduce distraction. To make sure students have access to content in the classroom – without sharing materials – and are able to stay up to date when studying from home, its critical they have the right devices at their fingertips.
Here, we'll dive into some of our favorite learning tools, powered by E Ink technology.
The Right Technology
There are a number of devices on the market to meet students' learning needs. From eReaders to eNotes, handheld devices capable of displaying reading materials and allowing students to take notes in real time, no matter where they may be, can optimize the learning experience with ease.
The Kindle Oasis leverages our 7" Carta™ with a resolution of 300 dpi, and is super slim and light – perfect for students' backpacks and inside their desks. Its design and usability are unparalleled. It's also waterproof, and in that sense, kid friendly!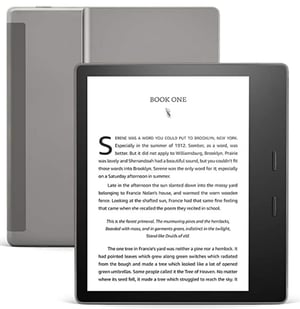 Image credit: Amazon
The PocketBook InkPad Color takes it up a notch, using our 7.8" Kaleido™ Plus screen and capable of displaying up to 4,096 colors – perfect for content that keeps the learning experience fun and engaging for young readers. The device also boasts Bluetooth connectivity, supports numerous music and audiobook formats and offers text-to-speech technology in sixteen languages.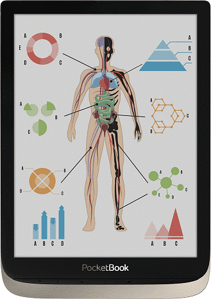 Image credit: E Ink
eNotes are critical to the learning experience as well, offering that additional layer of interactivity that students crave. Instead of lugging around a pen and paper all day – or many – students can take down all notes in devices like the Kobo Elipsa.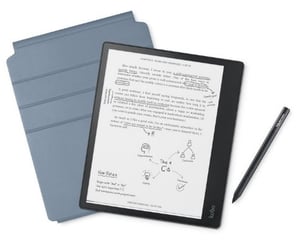 Image credit: E Ink
The Kobo Elipsa offers an intuitive note-taking experience on a large 10.3" touchscreen, complete with a stylus for easy use. Allowing users to take notes in eBooks and PDFs, this glare-free screen leverages our own Carta 1200 technology with adjustable lighting, display speeds and contrast. Students can even highlight and annotate in their course materials like eBooks and PDFs or in their own notebooks.
Reducing Distraction
While technology is the perfect solution to bridge the gap between remote and in-person learning this year, it is important teachers, parents and students themselves employ strategies to promote focus and reduce overstimulation.
As opposed to traditional tablets or laptops, eReaders and eNotes are perfect for accessing content in the classroom or at home, without the added distraction of messaging platforms or social media notifications that may come on a traditional device. Keeping this focus on the content itself is key to streamlining the learning experience even for the most challenging subjects.
Using these devices can also improve eye health and overall well-being, as blue light used in traditional tablets can cause permanent eye damage, contributing to the degradation of cells in the retina and potentially catalyzing age-related macular degeneration, which can lead to vision loss. E Ink-powered eReaders and devices have been shown to cause lower levels of visual fatigue than these traditional LCD devices.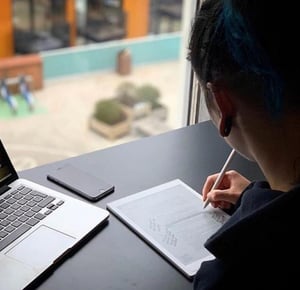 Image credit: E Ink
As this school year takes off, and we're still living in the midst of the "new normal," it's critical to take advantage of all the tools at your disposal as a parent or educator, to ensure a successful learning experience for all students. E Ink powered eReaders and eNotes are the perfect marriage between technology and productivity, and we're proud to support hybrid learning.